Have you ever thought about sharing audio or video from your iPad or iPhone without having to give them your AirPod? This idea may sound far-fetched, but it's not impossible. Apple has an Audio Sharing feature that allows you to connect two iPads to your iPad or iPhone and enjoy music with your friend without giving them one of your Beats earbuds or AirPods.
To share audio from an iPad to more than 1 set of AirPods: start playing or watching the content on the screen and have one user start listening on their AirPods. Next, click the AirPlay menu and bring the other AirPods near the device to trigger the "Share Audio" option.
Sharing music with a friend using Apple's Audio Sharing feature is the best thing you can do for yourself and your visiting friend. It makes you enjoy the highest quality music with both your AirPods while your friend is doing the same. To know how to connect two AirPods to a single iPad or iPhone, how to stop sharing AirPods, and which gadgets are compatible, read on.
About Apple's Audio Sharing Feature
Apple's Audio Sharing feature is found on the iPad and iPhone. It allows you to share your Bluetooth audio with your friend and enjoy watching videos or listening to songs together.
When your friend has wireless headphones, both of you can enjoy music without distributing those around you. Unfortunately, this feature works only with newer iPod Touches, iPads, and iPhones paired with PowerBeats Pro or AirPods.
Which Devices are Compatible With Audio Sharing?
To connect two Beats or AirPods to the same iPod Touch, iPad or iPhone, first check if your pair of headphones are compatible with these devices.
Additionally, these devices should also support the Audio Sharing feature. Note that, even if your device has the latest iOS version, it's not automatic that it will support this feature.
The compatible iPod touch, iPad, and iPhone models are:
iPod touch (7th generation)
iPad (5th generation) and later
iPad mini (5th generation) and later
iPad Air (3rd generation) and later
iPad Pro 10.5-inch
iPad Pro 11-inch
iPad Pro 12.9-inch (2nd generation) and later
iPhone 8 and later
The Compatible headphone models are:
Beats Fit Pro
Beats Flex
BeatsX
Beats Studio3 Wireless
Beats Solo3 Wireless
Powerbeats3 Wireless
Powerbeats Pro
Solo Pro
Powerbeats
AirPods (1st generation) and later
AirPods Pro
AirPods Max
How to Pair Two Sets of AirPods to One iPad
To connect a second pair of AirPod to your iPad isn't as difficult as you might think. In fact, the procedure you use is the same as that used to connect the first pair of AirPods. So, what do you need to do? Follow the steps below:
On your iPad, visit the Home screen.
Remove your AirPod from its Smart Case and hold it close to the device (iPad) for about one minute. You'll see a setup animation appearing.
Tap Connect, then follow the on-screen instructions.
Once everything is done, tap Done.
All the devices you've signed in to your iCloud account will automatically detect the AirPods and setup. To see the paired AirPods, you can open your Bluetooth settings on your device.
Sharing Audio with Beats Headphones and AirPods
If you want to share audio with Beats headphones and AirPods, follow the steps below:
Connect your Beats headphones, AirPods Max, AirPods Pro, or AirPods to your iPadOS or iOS device.
Go to the Control Center of your iPad or iPhone and tap on the icon marked AirPlay. You can also find this icon on your Lock Screen or within the app, you're using.
Tap on the Share Audio button.
If your friend's headphones are AirPods Pro or AirPods, bring them closer to your iPad or iPhone and open the lid. It would be necessary to press and then hold the button found at the back of your device's case.
If your friend is using an AirPods Max headphone, just hold them close to your iPad or iPhone.
If you want to share with Beats, you have to put the Beats in pairing mode and then hold them close to the iPad or iPhone.
The headphones will appear on your iPhone's screen in its animated box. You can then tap on the Share Audio button. You may also see Connect to iPhone or Temporarily Share Audio. Whatever the case, use the available option to share audio.
Volume Control
When sharing audio between pairs of Beats headphones or iPods, you can control the volume of each part separately. You can play, stop, pause, and change audio volume individually.
You can do this using the Control Center or Lock Screen controls. The volume controls are available on the app you are using. You can also access them when you tap the AirPlay icon.
By pressing and holding the volume slider, both headphones' volume controls appear on your screen as vertical bars. You'll have to drag the volume slider to change the volume.
You can as well use the headphones to change the volume. For example, when using AirPod Max, turn on the Digital Crown. Whichever method you use, only a particular pair of headphones will get affected. Another way of changing volume is to use the volume slider on the headphones themselves.
How to Stop Sharing AirPods
If you want to go back to listening to the audio on your own, you can simply stop sharing AirPods. To do this, tap the AirPlay icon in your iPad or iPhones Control Center on the Lock Screen or the app you are using.
Look for the check mark next to the headphones you want to disconnect and untick it. The second set of headphones will get disconnected when you stop sharing audio.
Does Audio Sharing Work with Other Brands of Headphones?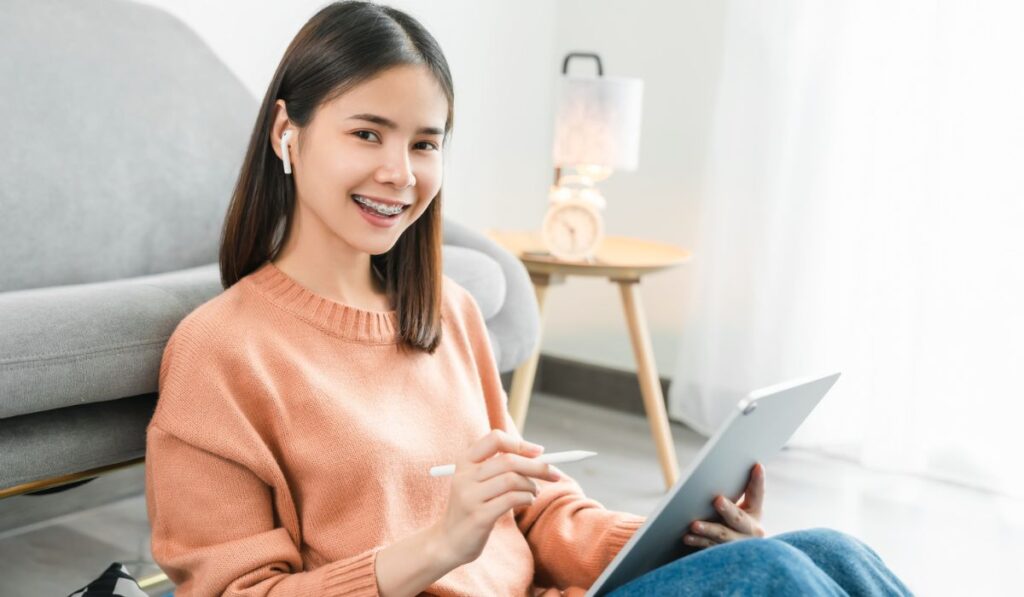 Apple may sometimes refer to the sharing feature as Audio Sharing with AirPods, which would imply that the feature is only limited to AirPods, but this is not the case.
The sharing feature works with any pair of earbuds or headphones that a W1 or H1 processor powers. Modern Samsung gadgets also have a similar sharing feature called Dual Audio.
This Samsung feature can let two people listen to a single device with two speakers or headsets. While you can connect two AirPods and any Android device, you'll have a better experience using the devices listed above.
Note: even if the latest iOS version powers a device, it may not necessarily support the sharing feature. So, the first step is to check whether your device supports sharing before you start pairing.