HDMI Splitters are excellent for splitting whatever you are doing to multiple screens and increasing productivity. You may have a grasp on the basics but still aren't sure how to set everything up. It's easier than it seems.
To use an HDMI splitter for dual monitors, find the HDMI port on your computer and plug in one end of the HDMI splitter. Next, plug two HDMI cables into the splitter and connect each to a monitor. Turn on your computer, and you should see the desktop extended across the two screens.
We take you through a complete guide to setting up and configuring an HDMI splitter with different operating systems. This is HDMI 101. So let's dive right in!
Will an HDMI Splitter Work for Dual Monitors?
An HDMI splitter like this one (on Amazon) will split or duplicate one source image into different output locations, for instance, a desktop computer connecting to two monitors. Of course, you must set up everything correctly, the cables, splitter, and monitors, for it to work.
Ensure that you purchase a quality HDMI splitter that will work effectively. Otherwise, the images displayed will be slow, and their quality will be adversely affected.
The one we've linked above works great, and we have a bit more discussion on it below, but first let's cover some of the details about the features of these products and what should be on your radar.
How to Set Up Dual Monitor with an HDMI
Cross-check that you have everything before getting started. You'll require two monitors, each with its HDMI cable. You may need an adapter cable if your computer has two different video outputs. Now you can start:
Connect the HDMI cables to each monitor and plug their other ends into your video output.
Turn on both monitors by plugging their power cords into an outlet.
Next, change your computer's display settings to allow each monitor to display a different screen portion.
Below, we discuss how you can do this for Mac, Windows, and Linux systems.
How to Configure Dual Monitors with HDMI Splitter on Windows 10
Here's how to configure dual monitors on Windows 10.
Go to Settings > System > and select Display.
Your computer will automatically detect any external display connected to it. You can click on Detect if it doesn't.
After detecting the monitors, choose the one you want to be your primary display. Click on either of the monitors and then check the Make This My Main Display Option.
If you want, you can arrange the displays in order by dragging them in the Display panel.
Next, adjust your monitor's resolution. The higher the resolution, the better the image display. To do this, click on each monitor, one at a time, and select Display Resolution from the pop-up menu.
Not sure what resolution to choose? Select the highest option given. Most monitors can go up to 1280×1024. Choose this.
Select Keep Changes from the prompt that appears to save your changes.
You have successfully completed configuring your dual monitors on Windows.
How to Configure Dual Monitors with HDMI Splitter on Mac
Follow these steps if you are a Mac user.
Go to System Preferences and select Displays.
Both of your monitors will be listed in the Displays panel. If not, cross-check that you have set up the monitors correctly and that the cables are connected as they should.
You can arrange the monitors and display to match your desk. Click on Arrangement to do this.
Next, click Mirror Desktops to turn on mirroring. When you mirror your desktop, you duplicate it on both screens.
The last step is to change the display resolution. Go to Displays and select Scaled. Choose one of the available resolutions or create your custom one.
How to Configure Dual Monitors with HDMI Splitter on Linux
Here's how to configure dual monitors on Linux.
Go to Control Panel > Display > and select Detect Displays.
After your computer detects both monitors, choose one as your primary display. The primary display will launch apps and show the desktop when your start your PC. Set this in the Displays Settings also.
The final step is to adjust the screen resolution and ensure that the monitors display the correct image. Drag the image of one monitor over the other to arrange them.
Why Does Your HDMI Splitter Not Work?
If your HDMI splitter is not working, one or more monitors aren't receiving the signal. A signal may be sent, but it's not being split evenly among your monitors. Why? Here are a few possible causes.
Your setup may be wrong or faulty. Each of your monitors should display the same image. If they don't, then check if the setup is correct. You may have missed out on something.
Your HDMI splitter isn't receiving sufficient power, and that's why it is failing. Consider plugging the splitter into another outlet or using a different power adapter.
Your splitter isn't High-Bandwidth Digital Content Protection (HDCP) compliant. This is a feature in streaming devices that helps fight piracy. Unfortunately, most of the older equipment is not HDCP compliant.
You've purchased a crappy product. Sad but true. Check out our next heading for some of the best HDMI splitters.
Best HDMI Splitter for Dual Monitors Extended Display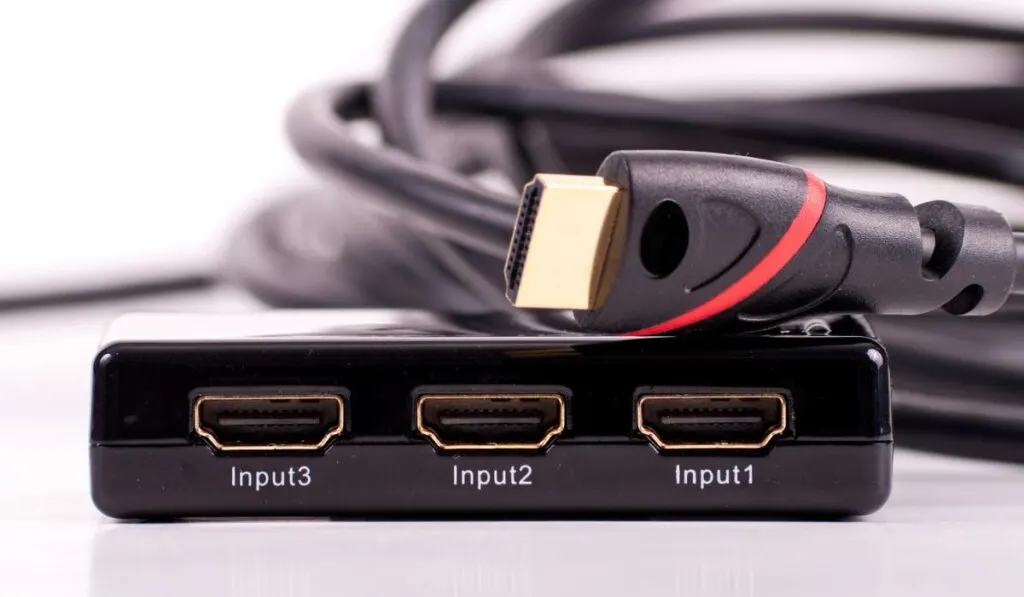 There are lots of HDMI splitters in the market from different brands. While this is a good thing since the market price is regulated, it also affects the quality. Not all products are worth your time and money.
How to Choose the Best HDMI Splitter for Dual Monitors
While making your purchase, here are essential factors you should consider.
The number of ports that an HDMI splitter has. The more ports, the more screens you can attach it to. Most HDMI splitters will have between 2-8 ports.
Your HDMI splitter should be able to handle your monitor's resolution. Standard quality splitters will handle up to 4K resolution, but the best will go up to 8K.
Of course, price is another important consideration. Go for something that fits your budget. HDMI splitters will range between $10 to $200.
Recommendations for the Best HDMI Splitters
Orei UHD has almost everything you'd want in a splitter. It supports high-resolution videos, has a built-in scaler to match your TV's resolution, and is relatively affordable.
While it costs slightly more than Avedio's splitter (our best affordable), it is still fairly inexpensive.
A slight shortcoming of this product is that it does not support Atmos so the video quality can be affected during this. But on the bright side, the splitter fully supports STS-HD and Dolby TrueHD.
Many companies are about quantity and sales, but Enbuer is among the few that focus on quality. Its 1×3 splitter is compatible with gaming consoles, Blu-ray machines, and laptops, and you can mirror them to up to three monitors.
The HDMI has a remote control, but you'll have to purchase the cables separately.
Tight on budget but still want a decent-performing splitter? Avedio 1×2 Splitter is the solution for those with a modest budget. It is excellent for most setups and users without demanding needs. Plus, it is compact, and you can easily tuck it away.
A USB wall adapter isn't included in the packaging, so you'll have to purchase this separately.
If you are serious about splitting content and are doing it professionally, consider getting the grandfather of HDMI splitters, TESmart 8×8 HDMI Matrix. This product is costly, but that's because it doubles as a switch.
It has enough room to split your PC, laptop, video console, and CCTV surveillance. The splitter can connect eight sources to 8 displays.
You can also operate it as a switch and connect multiple inputs to a single output. Note that you'll have to purchase the HDMI cables separately.
Don't Confuse HDMI Splitter with a Switch or an Adapter
You must purchase an HDMI splitter—not a switch or adapter—if you want to split screens and duplicate content on multiple screens.
A switch is ideally the opposite of a splitter. It receives output from several sources and displays them on one monitor or projector. A USB to HDMI adapter, on the other hand, extends your monitor. It can be easy to confuse the three and purchase the wrong product. So, be on the lookout.