If the Wi-Fi in your home is less than perfect, you may have wondered if there is a way to stream without it. Unfortunately, with the way devices are connected these days, streaming content without a wi-fi connection can be a difficult thing to accomplish, however, there are a few options that exist, but keep in mind they will require some setup.
It's possible to stream to your TV without a wireless internet connection. You can use popular devices like Chromecast to set up a local network to cast files from your phone. Additionally, you can connect your phone to your TV with a hardwired HDMI connection.
Most electronics built today require a Wi-Fi connection for operation, there's just no way around it, for the most part. There are some workarounds when it comes to streaming sticks, but you might need some additional hardware. There are some clever solutions out there that used built-in features of devices and some that just stick to older style connections like ethernet. To find out more and discover how to cast without Wi-Fi, follow on!
Can You Stream to a TV Without Wi-Fi?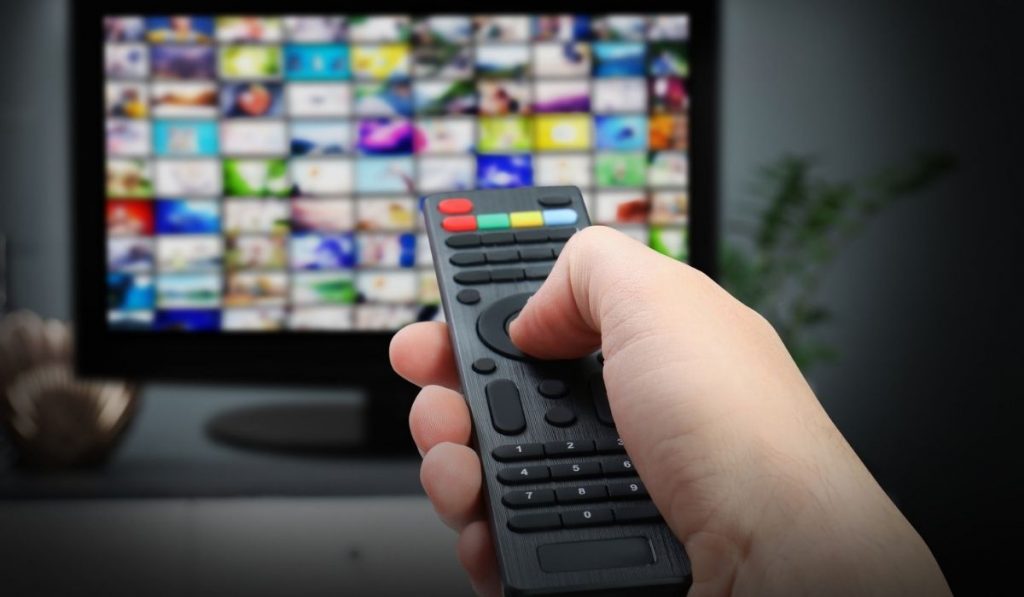 Can you stream to a TV without access to Wi-Fi? Unfortunately for you, like when using Airplay without WiFi which we've talked about before, there isn't a single clear answer. While some will say there are ways around it, most methods skirt around the terms "streaming" and "Wi-Fi." There are dongles and connectors out there that will allow you to connect your phone to a TV, but those methods don't count as "streaming" if you think about it.
Streaming from the internet to a TV is always going to require a connection, in most cases a wireless one. Some solutions allow you to set up a local network using a cellphone or by utilizing screen mirroring. Others require a hard-line ethernet connection to work, however, as we pointed out in our guide, using Wi-Fi and ethernet at the same time won't speed up your connection so don't bother.
None of them truly stream from the internet – using apps like Netflix or Hulu – without a Wi-Fi connection. So the question should be: how do I connect my phone and play media without wireless? To do this, there are a few options including screen mirroring, using an HDMI cable, screencasting, as well as using Chromecast.
We'll explore a few options so you can find the best method for you. Keep in mind that most of these will require you to purchase extra equipment to get things working. A more straightforward solution may be buying a wireless router like the Netgear R6230 (on Amazon).
You may think that streaming sticks like the Google Chromecast can help you in this situation. The problem is that most of these wireless dongles need access to a network to function. While they may not use Wi-Fi to access the internet, they use the network to transfer data. Some solutions work around this, but a network connection is still needed for setup.
How to Stream Local Content from Your Phone
If you want to stream content from the local files on your phone, there are some options available. We'll go through the most popular one by one and take you through the setup process. Perhaps the most common ways of going about this are using Chromecast in guest mode and also by using Peer-to-Peer sharing with Airplay.
Using a Chromecast in Guest Mode
Guest mode was designed to allow users without access to your network to connect to your Chromecast. But in a pinch, it can work to connect your phone without the need for Wi-Fi. What happens is that Chromecast will set up a network itself. If users connect to this new wireless network, they can connect to the device given they have the PIN. This prevents people nearby from gaining access to your Chromecast unwarranted. How to enable Guest Mode:
Open the Google Home app on your phone or tablet.
Find and select the name of your Chromecast
From here, you'll want to select the Settings button
Now, locate the Device Settings option.
You should see an option to enable guest mode.
If you don't see this option, your Chromecast may not have this feature. Newer models support Guest Mode, but some older models will not. Once Guest Mode is enabled, you should be able to connect to your Chromecast without a wireless connection.
Using Peer-to-Peer Airplay
Peer-to-Peer Airplay is a feature on Apple TV devices. It takes a bit of tricky maneuvering to access this function. Fortunately, users have found out the step-by-step process. Here is how to utilize this function of your Apple TV:
You'll need to forget the Wi-Fi network you are connected to on your Apple devices.
Make sure you forget the network on your Apple TV too.
Turn off Bluetooth and Wi-Fi on your Apple TV and other devices
Restart Apple TV and all devices
You should now see the AirPlay feature on your devices while disconnected from your Wi-Fi.
Other Casting Options
The two above methods are the most popular because both Chromecast and Apple TV are popular. But, there are plenty of other standards that you might use to connect to a TV without wireless. Some Samsung devices have streaming capabilities built-in. It is always worth looking at your TV's user manual to find out what kind of connection it can take. You might be surprised to find an option to stream over a local network.
Screen-Mirroring from your Smartphone with a Direct Connection
If you want to mirror the screen on your phone, there is a fairly straightforward solution. It will enlist the help of an HDMI cable that can connect to your phone. This method directly connects to the TV and will work if you don't have access to Wi-Fi. Here are some options for different types of phones:
Keep in mind that using this method only gets your screen to mirror. If you want to stream content, you're going to have to get it from somewhere. You might have some videos saved locally, but you can also use your cellular data to stream over apps like Netflix or HBONow.
Using Chromecast Ultra and Ethernet
Some premium streaming devices can take an ethernet connection. This means you won't have to deal with Wi-Fi at all, not even for setup. As we explained in our article on setting up a security camera without Wi-Fi, Ethernet tends to be more reliable. These devices, including the Chromecast Pro, come with added benefits.
Some of these benefits include things like 4K video, connections to other smart devices, and smart commands with linked smart hubs like an Amazon Echo (on Amazon) or Google Home. Smart TV devices like the Google Chromecast Pro or the Roku Ultra (on Amazon) come equipped with ethernet ports and can support streaming video without Wi-Fi.