You can use your smartphone for all kinds of things, as long as there is wireless internet service. While you may think that connecting your smartphone to your television is impossible without the use of wireless internet, it is actually quite simple to do, you just have to make sure you have the proper gear.
To connect any phone to a TV without wi-fi, you have to use either a lightning to HDMI adaptor, a USB-C to HDMI Adapter, Miracast, or peer-to-peer sharing via Airplay. There are other options too, like using an HDMI transmitter kit.
In the section down below, we'll discuss different methods on how to connect both Apple and Android smartphones, as well as a few other niche options. We will also point out some options that may seem like they would work, but in reality, don't offer a great experience. With all of these options, it is important to note that you need a modern, flat-screen television. An old or outdated television with RCA connectors will not work.
Connecting an Apple iPhone to a TV Without Wi-Fi
Using a Lighting to HDMI Adapter
The first, and best, option for connecting an Apple smartphone, like the iPhone 12 Pro (on Amazon) to a television without using Wi-Fi is by using a lighting to HDMI adapter. This is a simple cord that you can purchase from Amazon that connects your phone to your television. Connect this cord to both your smartphone and your television, and this will allow you to play videos on your phone and have it show on the TV (more on what can be done with smartwatches, headphones, and phones in our guide).
Connecting an Apple Device to Apple TV via Airplay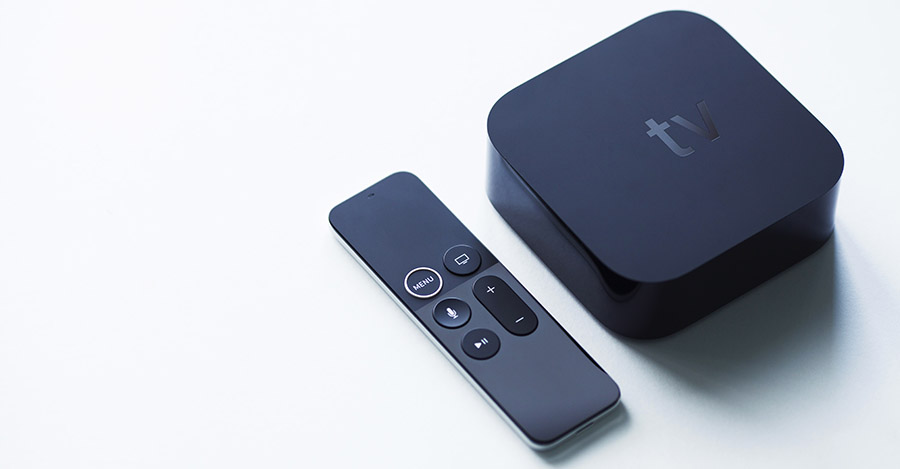 If you have an Apple TV connected to your television, you should be able to connect your phone without the use of wireless internet, in fact, you can do the same thing with smart TVs via your phone's hotspot (our guide).
Apple devices, like the iPad Pro (on Amazon) or iPhone, have an option for peer-to-peer Airplay. To connect them via Airplay, it takes just a few seconds after choosing the right options in the settings. If you have an Apple TV connected to your television, you can use this Airplay feature to mirror your phone with the screen on your television (more on Airplay and WiFi in our tutorial).
Simply click the Airplay icon to get started (this looks like a rectangle with a small black triangle cutting through the bottom). Make sure to connect your device, rather than one that belongs to someone else, assuming you live in an apartment building.
Connecting an Android Smart Phone to a TV Without Wi-Fi
If you have an Android phone, your options for connecting your phone to the television without using Wi-Fi are relatively similar to those of the Apple smartphone and Apple TV (our guide), except that you have to use different kinds of adaptors and use alternative software.
USB-C to HDMI Adapter For a Connection Without Wi-Fi
Similar to the Apple smartphone, you can use an adapter to connect your Android phone to your television without Wi-Fi. For Android, you will need to purchase a USB-C to HDMI adapter from Amazon. This cord has one end, the HDMI end, that goes into a port on the back of your TV. The other end matches the charging port on your Android smartphone. Plug both ends in to connect the devices and play anything on the TV from your phone.
Connect An Android Phone to Your TV With Miracast
Miracast is another great option. Miracast is a wireless display technology that most newer Android devices, like their phones, have already built into them. Miracast is also something that you can purchase to connect to your TV for the purpose of a wireless connection. This technology creates a wireless connection between your phone and TV without the use of any Wi-Fi or internet network.
To use Miracast, you will need an Android phone that has Miracast installed, a Miracast receiver for your television, and an empty HDMI port on your television. If your Android phone is version 4.2 or later, you automatically have Miracast capabilities built into your phone. These three items will work together to allow you to connect your phone to your TV without the use of wireless internet. Just follow the instructions in the user manual to get up and running.
Other Options To Connect Your Phone To Your TV
Using Samsung SmartThings to Connect Your TV
If you have a Samsung smartphone like the Samsung Galaxy (on Amazon), for instance, there is a chance that you may have a Samsung smart TV as well. If you do, you are able to connect your phone to your TV without the use of wireless internet.
Samsung has an app that you can download called SmartThings. When you download this app onto your phone and open it, it will automatically search for other Samsung devices to connect with. Click on your Samsung smart TV when it pops up on the app and follow instructions for connection.
Once connected, you will be able to play videos from your phone on your TV without the use of wireless internet. Remember, this option only works if you have a Samsung Smart TV. If you plan to use Samsung devices for a long time, it may be a wise investment to get a Samsung Smart TV as well.
Using An HDMI Wireless Transmitter Kit
If you don't mind a dongle connected to your television, then you can use an HDMI wireless transmitter kit. When using an HDMI wireless transmitter kit, you get both a transmitter and a receiver. These devices work together, without wireless internet, to connect two smart devices. In this case, it will connect your smartphone to your television. Just follow the instructions to connect your transmitter to your smartphone, and the receiver to your television.
While this option may look a little strange on your TV or phone, it is wireless. This means that you don't have to sit close to the TV because you are connected with a cord. You also won't have a long cord running through your family room or bedroom. You can lounge on the couch comfortably or even walk around your room while controlling your television. If this option sounds like a good fit for you, you can read more about it in more detail in this full wireless HDMI kit guide.
Solutions For Phone And TV Connections That Don't Work
One of the first solutions that someone may try to use to solve this problem is to use Google Chromecast. Google Chromecast is a device that you can purchase that is used to send things from one device to another. More specifically, it's a dongle that connect to your television through the HDMI port.
The purpose of Chromecast is to basically turn your TV into a smart TV. It gives your television streaming capabilities so you can use services like Netflix, for example. Chromecast is controlled by the individual apps on your phone, so it doesn't depend on the operating system or phone type. While this seems like the perfect solution, it still requires Wi-Fi in order to operate, so it cannot be used without a wireless connection.
Another option that may pop into your mind is screen mirroring. Some smart devices offer screen mirroring with a smart tv. Unfortunately, this solution is not something that can be relied on as well. This is not a method that can be relied on for all devices because it is not universal. For that reason, it's best to rely on the options already explained above if you need a robust solution, streaming videos regularly, for instance.