It's no secret that the Nintendo Switch is probably the least powerful console of the current console generation. However, due to Nintendo's impressive line of exclusive games, many gamers feel the need to purchase a Nintendo Switch anyways. This has left many gamers with the same thought: "If only I could play Switch games on my PC."
To play Nintendo Switch games on your PC, you can use a capture card to stream the video to your computer, or you can set up a Switch emulator on your computer to run the games natively on your PC. The latter option requires downloading and setting up an emulator like Yuzu, Ryujinx, or Cemu.
This may sound simple, but the process can be tricky. Let's break down how to do each of these methods step by step so that you can get your Switch games running on your computer.
Why Play Nintendo Switch Games on a PC?
There are several reasons why someone might want to play Nintendo Switch games on their PC. Let's go through some of the main ones.
Firstly, playing Nintendo Switch games on a PC can be more cost-effective. While the Switch console itself is relatively affordable, buying games for the system can quickly add up. Some Nintendo Switch games also aren't available on other platforms, so playing them on a PC can be a more cost-effective alternative to buying a Switch console.
Secondly, playing Nintendo Switch games on a PC can offer better performance and graphics. It's no secret that the Switch is lacking in performance when compared to other new consoles. Playing Switch games on a PC can offer better performance, higher frame rates, and improved graphics.
Thirdly, playing Nintendo Switch games on a PC can offer more flexibility. PC gamers can customize their gaming experience with mods and tweaks, which can add new features, improve graphics, or alter gameplay mechanics. Playing Nintendo Switch games on a PC can also allow for easier sharing of gameplay footage and screenshots, which can be useful for content creators or for sharing with friends.
Finally, playing Nintendo Switch games on a PC can be a convenient way to access games without needing to switch between multiple devices. With many PC gamers already using digital storefronts like Steam, having Nintendo Switch games available on the same platform can offer a streamlined and convenient gaming experience.
What Are the Minimum System Requirements?
Before you can connect your Switch to your laptop, you need to make sure that your device is up to snuff. Let's go through what your computer needs in order to play Switch games.
The minimum requirements that your computer needs are as follows:
CPU: AMD Ryzen 3 1200 or Intel Core i5-4430

GPU: NVIDIA GeForce GT 1030 2GB, Intel HD Graphics 520, AMD Radeon RX 550 2GB Dedicated, or AMD Radeon Vega 3 Integrated

RAM: 12GB or 8GB with a dedicated GPU
However, the recommended requirements for playing Switch games on your computer are:
CPU: AMD Ryzen 5 3600 or Intel Core i5-10400

GPU: NVIDIA GeForce GTX 1650 4GB, Intel UHD Graphics 750, AMD Radeon RX Vega 56 8GB Dedicated, or AMD Radeon Vega 7 Integrated

RAM: 16GB
Method 1: Using a Nintendo Switch Emulator
The first method to play Nintendo Switch games on your computer is to use a Nintendo Switch emulator. This will basically simulate a Nintendo Switch on your computer that you can play games with. Let's go through the steps to set up a Switch emulator on your PC.
Step 1: Download the Emulator
First off, you need to download the emulator onto your computer. There are a few different emulators to choose from, so let's go through them real quick.
The first emulator is Yuzu, one of the most well known Switch emulators. This emulator is open source and has been available to download since about eight months after the Switch originally launched. Of all of the Switch emulators, this is the one we would recommend first.
Our second Switch emulator is Ryujinx, one of the most trusted Switch emulators. On their website, Ryujinx claims that their emulator has been tested on over 3,600 titles, and, of those, 2,700 are considered playable. The one thing that Ryujinx has over Yuzu is Mac support.
Finally, we have Cemu, a WiiU emulator that can also run Switch games. As it is primarily a WiiU emulator, we would recommend trying the other two options first, but if you can't get them to work, Cemu could be worth a shot.
Step 2: Download Nintendo Switch ROMs
Now, you need to download some Switch games. This is the part where this subject gets tricky legally. Distributing emulators and even emulating games is entirely legal under US law, but distributing game ROMs isn't.
This basically means we can't tell you where to find these ROMs, but we can tell you what to look out for. For Yuzu, you're going to need files in the .NSP or .XCI format. These will be your Switch ROMs.
The main thing to keep in mind is that you should never have to open a .EXE file while downloading Switch ROMs. .EXE files from a website you don't trust have an extremely high likelihood of being some form of computer virus, so if you download a file called something like MARIOKART.EXE, make sure to delete it without opening the file.
Step 3: Set Up the Emulator
Next we need to set up the Switch emulator to get it working. In this section, we'll be covering how to set up Yuzu specifically, but the process for the other two emulators should be extremely similar.
First off you need to get your Switch's decryption keys and system firmware onto your computer. To do this, it is recommended that you dump them from your Switch onto your SD card and then transfer them to your computer. (Yuzu has a great guide on how to do this here).
It's also possible to download these files from the internet. However, once again, it's not legal to distribute these things, so you're on your own if you decide to go down that route.
Once you have these files, follow these steps to set up Yuzu:
Open Yuzu on your computer.

Select "File" > "Open yuzu Folder."

Place your decryption keys and firmware files in the folder that opens.

Open your Switch's SD card on your computer and open the folder titled "switch."

Copy "prod.keys," "title.keys," and "key_retail.bin" to the keys folder in the Yuzu folder you have open.

On your Switch's SD card, navigate to "sdcard:/tegraexplorer/Firmware/<firmware version>/."

Copy all of the .nca files you see and paste them in "yuzu/nand/system/Contents/registered/."

Close everything and open the emulator again. You'll know you've done it right if the missing keys warning doesn't appear.
Step 4: Play Your Favorite Games
Now you're ready to load games on your emulator and begin playing. All you have to do is put all the games you downloaded into a dedicated games folder.
From here, open yuzu and double click on the emulator window. Now navigate to your games folder and then select "Select Folder."
You should see all of your downloaded games on the main screen of Yuzu. Just click on the game you want and it should open up. Connect a controller of your choice (Yuzu can work with a pro controller or an Xbox controller) and start playing.
Method 2: Using a Capture Card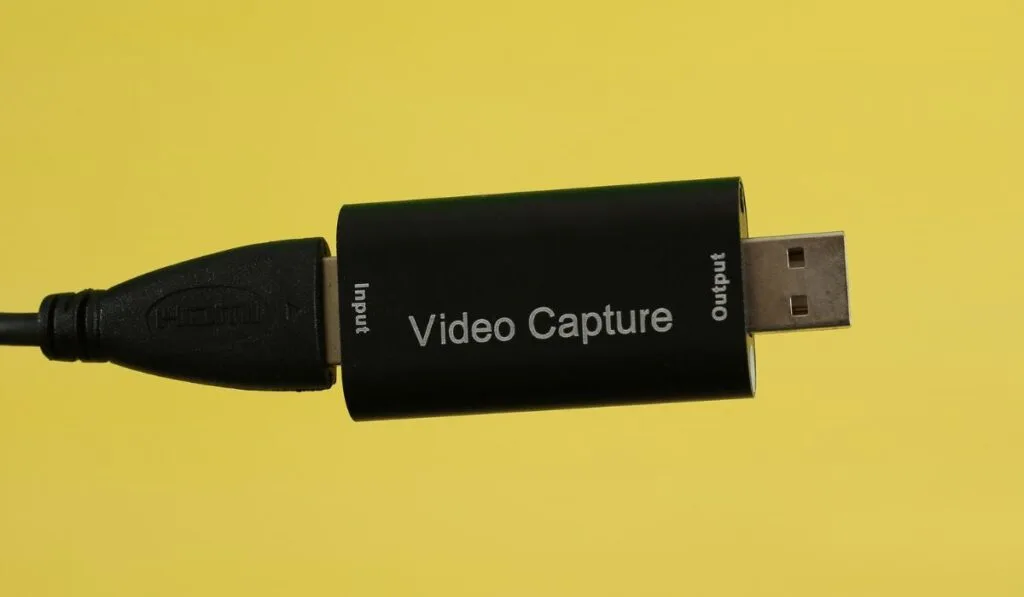 A capture card is a device that will allow you to send a video signal from your Switch (or any console with an HDMI output) to your computer. If you want to get your Switch games on your computer screen without any complicated setup or legal gray area, then this will work fine.
Step 1: Purchase a Capture Card
There are many capture cards on the market, and many of these are primarily meant for streaming games to websites like Twitch and YouTube. However, we're just trying to get the Switch display on your computer's screen.
This means that we need to look for two magic words: low latency. Low latency capture cards focus on keeping the delay between your console and your screen as low as possible, which means keeping input delay to a minimum. For this purpose, we recommend this Cable Matters Ultra Low Latency capture card (on Amazon).
However, you can really purchase any capture card you want. If you don't care about input delay, you could probably go even cheaper than the Cable Matters capture card.
Step 2: Download a Streaming Software
Now we need to download a streaming software. You may be put off by the idea of streaming games, but don't worry. We're only going to use it to receive your Switch's video signal.
By far the best software you could download is OBS Studio. This free program will be perfect for getting your Switch's display on your computer's screen. You can download OBS Studio for Windows, Mac, and Linux on their website (found here).
Step 3: Connect Your Switch to Your Computer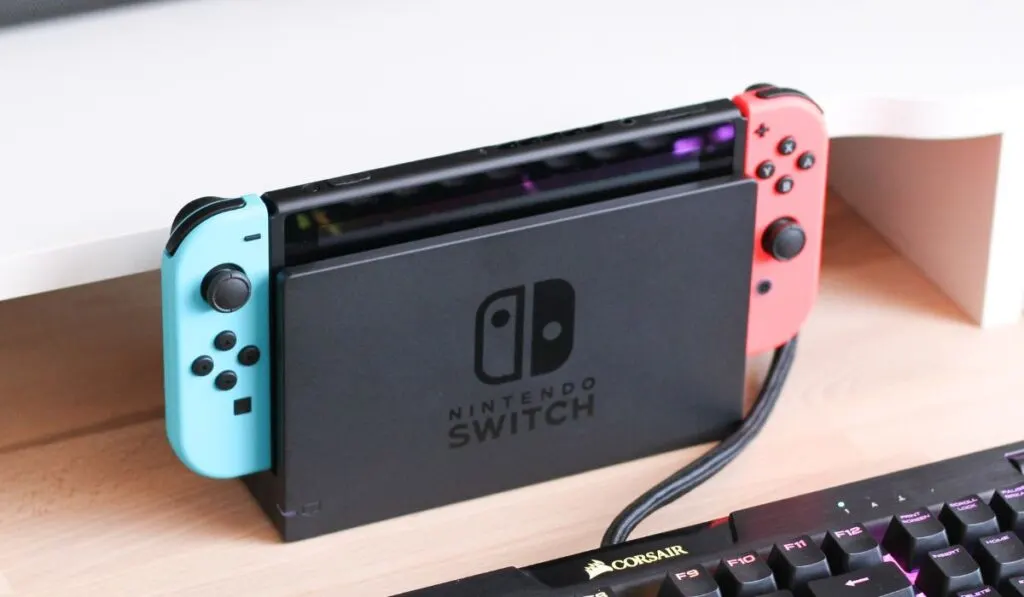 Now you need to connect your Switch to your computer. To do this, begin by plugging an HDMI cable into the output port on your Switch. Then, plug the other end of that HDMI cable into the input port on your capture card.
Next, plug your capture card into your computer through the USB ports. If you want, you could use another HDMI cord to connect the capture card to a TV through the HDMI output port on the capture card. However, doing so isn't necessary.
Step 4: Configure Your Streaming Software
Now we just need to configure OBS Studio to display your Switch on the screen. To do this, just follow these steps:
Open OBS Studio and you should see four different tabs at the bottom of the screen: Scenes, Sources, Audio Mixer, Scene Transitions, and Controls.

Right click the empty area you see in the Sources tab, click "Add," and then select "Video Capture Device."

Select "Create new" and then type any name you want for your capture card.

Select the name you set for your capture card under the Device tab. (Some cheaper capture cards may just be labeled as "USB Video.")

Set the Audio Output mode to "Digital Audio Interface."
After this, you should see your Switch's display on your computer's screen. Now you can play Switch games using your computer's display.
If the audio isn't playing after being set to digital audio interface, you may need to manually turn on audio monitoring in the audio settings and select your speakers as the output for audio monitoring.