Ready to give up on your PS5 because it keeps crashing and freezing right in the middle of an intense boss fight? Well, don't pull the plug just yet. Most of the time, your PS5 crashes because of temporary issues that you can quickly and easily fix on your own.
You can fix PS5 crashes by restarting the console, disabling Rest Mode, updating its system software, rebuilding its database, reinstalling and updating problematic games. As a last resort, you can try hard resetting the PS5. If everything fails, you'll need to contact PlayStation Support.
It's important to note that this error most commonly occurs when you're playing resource-intensive titles like CoD: Vanguard, Returnal, Spider-man Remastered, and Marvel's Spider-Man: Miles Morales. Let's first look at why your PS5 crashes and then move on to its various solutions, so you can keep playing to your heart's desire.
Why Does Your PS5 Keep Crashing or Freezing?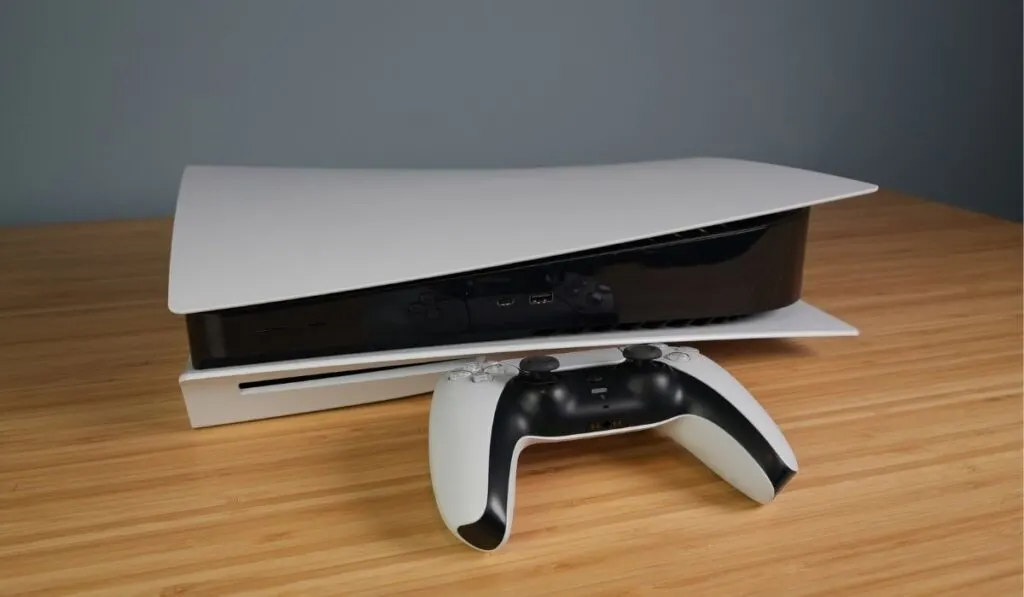 It's important to understand why your PS5 (on Amazon) keeps crashing or freezing, so you can better prevent and fix the problem. We cover the whole raft of issues you might encounter in our Ultimate PS5 Owner's Guide, and we have separate guides on gameplay lag and graphics issues, but some of the most common causes for crashing include:
Rest Mode
Similar to the PS4, the PlayStation 5 also comes with a Rest Mode. This feature allows your console to save power by running tasks in the background like downloading and installing games.
If you're planning on taking a short break from playing, but don't want to turn off your console, you can just enable Rest Mode.
While this power-saving mode has its benefits, it can result in random console crashes. In fact, this is an incredibly common reason for the problem and happens because the firmware enables Rest Mode by default.
Damaged power cord
If your power cord or adapter is damaged, your console will be unable to receive an unobstructed power supply, causing your PS5 to freeze and crash.
Outdated system software
During the initial months of the PS5's release, the crashing and freezing issue was incredibly common among users. Like any new piece of software, the PS5's firmware also suffered from frequent glitches.
However, Sony immediately acknowledged this problem and released firmware updates and hotfixes to resolve the issue.
Your PS5 will automatically update its system software and all its apps if it's connected to the internet. But, if you've turned off auto-update or disconnected the console from the internet, you'll have to update its firmware manually.
Faulty game
Corrupted or damaged game files can also be the reason behind the crashing and freezing issue. It's advisable to check multiple games to see whether the problem is with all games or one in particular.
If all other games are working fine, then chances are that not only you, but several other gamers are also facing the same issue. In this case, it's important to be patient as the developers are probably aware of the problem and will release a patch soon to fix it.
Overheating console
Any device designed with a silicon chip, whether it's a console, smartphone, or PC, will get hot under load. These overheating devices tend to crash and freeze when they exceed their optimum temperature.
Beyond a certain threshold, your PS5 will try to cool down its components to lower the temperature. However, if the console keeps overheating, the SSD storage, RAM, CPU, or GPU can become significantly damaged.
It's advisable to regularly clean the inside of your PS5 and keep it somewhere cool and airy to prevent overheating.
What Do You Do if Your PS5 Freezes?
It's perfectly normal for any piece of hardware to crash every now and then. However, if your console keeps crashing, you might want to take a look at some potential solutions.
Try the following fixes one by one until you find one that does the job:
1. Restart Your PS5
Restarting your PS5 is one of the first solutions you need to try, as it helps solve many issues automatically.
Here's what you need to do:
Hold down your PS5's power button until you hear two successive beeps.

Disconnect the console from the power outlet.

Plug your PS5 into the power outlet again after one minute, and then turn it back on.
2. Turn Rest Mode Off
By putting your console on Rest Mode, you'll be able to download and install updates and games while saving power. Rest Mode also allows you to download game titles from the PS Remote App, enabling you to start the downloading process without turning on the console yourself.
Downloading games in Rest Mode makes your internet speeds faster as well. The power-saving mode also charges the PS5 controller and other devices, such as your smartphone and tablet.
However, the feature is not without its faults. For starters, gamers are sometimes unable to properly disable Rest Mode, which sticks the console into a loop. In simpler words, if you let your PS5 sit idle for a few minutes, it will go into Rest Mode automatically.
Your PS5 might also crash when you disable Rest Mode. So, until Sony releases a system update that makes the power-saving feature stabler and more reliable, it's better to disable the mode completely.
Here's what you need to do:
Access the Settings menu located at the top right corner of your PS5's home screen.

Choose System, then Power Saving.

Choose Set Time Until PS5 Enters Rest Mode.

On the drop-down menu, choose Don't Put in Rest Mode for both While Playing Games and During Media Playback.

Go back to the Home screen and then restart your console.
It's advisable to disable Rest Mode only if there's no additional damage to your PS5. However, if the problem still persists, it's better to move on to other fixes.
3. Check your console's power cord
Check your PS5's AC power cord to ensure it works properly. Here are the steps you need to follow:
Turn off your console completely.

Disconnect your PS5's power cord and check if it's broken. If you notice any signs of damage, you'll need to replace the cord with a functional one. Otherwise, move on to the next step.

Wait for a few minutes and then reconnect the power cord to your PS5. Your best bet is to plug the power cord into a different socket.

Turn on the console.
If your PS5 still doesn't work, feel free to try the next fix.
4. Update your PS5
Your console should automatically update the system software, but an unstable internet connection could hinder the process. In this case, you'll have to manually update your console.
Here's what you need to do:
Select Systems and then System.

Choose System Software.

Choose System Software Update and Settings.

Choose Update System Software.

Select the available update, if there is one.

Wait for the update to finish.
Once the update is complete, your PS5 will update automatically. You can then check whether the problem is fixed.
5. Rebuild your console's database
Several game developers and Sony itself suggest rebuilding the PS5's database if the console keeps crashing during a game. The function basically checks for any corruption or errors in the game files and resolves them.
Here's how you can rebuild your PS5's database:
Turn off your PS5.

Hold down the console's power button for around seven seconds or until you hear two successive beeps to boot it into Safe Mode.

Select Rebuild Database (5th option).
The process might take a few minutes, after which your PS5 will restart itself.
6. Reinstall the problematic game
If your PS5 is crashing and freezing because of one specific game, try to delete and reinstall that game and check whether that fixes the issue.
Here's what you need to do:
On the main screen, select the game that's causing the crashing or freezing issue.

Press your controller's Option button.

Choose Delete to uninstall and delete the problem-causing game.

Download and install the game again. Then, run it to check whether the crashing/freezing issue still persists.
7. Update your games
Your PS5 should automatically update apps and games. However, if you've turned off the auto-update feature, you'll need to manually update all your PS5 games.
Here's what you need to do:
Go to the main screen.

Choose the Games tab located at the top.

Select the game you want to update.

Press the Option button on your controller.

Choose Check for Update.
Updating games to their newest versions can help prevent continuous crashing and freezing. If you don't want to manually update your games, you can turn on the auto-update feature.
Here are the steps you need to follow:
Select Settings.

Select Saved Data, and then select Game/App Settings.

Choose Automatic Updates.

Enable Auto-Download and Auto-Install in Rest Mode options.
This Auto-download feature automatically updates all your apps and games whenever your console has a stable internet connection.
8. Check if your console is overheating
There are several ways you can identify an overheated PS5 such as:
The console feels hot to the touch, and the air vents release hot air.

The cooler runs constantly and makes a loud noise.

Black or white dots start appearing on the screen.

You experience frame drops or stuttering in-game.
Here are the Best Practices to Prevent Overheating
And, as you consider this list, keep in mind the nuclear option: if you can't arrange your PS5 in such a way that it stays cool automatically with it's own cooling system, you can always add a relatively cheap aftermarket option like the IQIKU PS5 Cooling Fan (on Amazon) to force more airflow and keep the console cooler.
Keep your PS5 in a clean, cool, and open space.

Store your PS5 in a way that leaves at least 5 inches of space from the nearest wall.

Instead of enabling Rest Mode, turn off your PS5 after a long gaming session.

Try to limit the time you spend on AAA game titles, such as Spider-Man: Miles Morales.

Regularly clean your console and the area around it.

Keep your PS5 on top of a stand or on a cold surface, such as marble, stone, or wood.

Regularly clean your PS5's vents to prevent dust buildup.

If your PS5's fan is being unusually loud, you'll need to open your console and properly clean it from the inside. Essentially, you can lift both the lids of the console and clean the insides using canned air, a low-powered vacuum, or a cleaning brush. However, if you're unsure about the cleaning process, you can simply take your PS5 to a servicing center.
Hopefully, lowering the console's temperature will enable all your games to run smoothly.
9. Factory reset your PS5
The last solution you can try to fix the crashing and freezing issue is resetting your console completely. Hard resetting a device usually fixes any temporary and unwanted issues. But, because it's such a tricky and lengthy procedure, you should only resort to resetting your console if every other solution fails.
A factory reset will completely delete all your data, so make sure you manually upload your files to an external hard drive.
Here's what you need to do to manually back up your files:
Connect an external hard drive to your PS5.

Select the Settings options, and then select System.

Choose System Software.

Choose Backup and Restore.

Choose Backup Your PS5.

Select the connected drive and back up your data.
Next, you'll need to hard reset the console. Here's what you need to do:
Turn off your console.

Press and hold your PS5's power button until you hear two beeps.

Connect the controller to the console using a USB cable.

Press the PS button on the controller to enable Safe Mode.

Choose Reset PS5 (Reinstall System Software).
This process might take a few minutes, and you'll have to follow all the instructions you see on the screen to put the PS5 back in service.
Lastly, you'll have to restore the data you've backed up. Here are the steps you need to follow:
Plugin the external drive that holds the backup data.

Go to the Settings tab, and then select System.

Choose System Software.

Choose Backup and Restore.

Choose Restore PS5.

Choose the connected external drive.

Choose the data you wish to restore.

Select Restore, then Yes.
10. Contact PlayStation Support
If none of the aforementioned techniques fix the issue, then you might have a hardware problem, such as a faulty optical disc drive. In this case, you can do nothing but contact PlayStation support. You can also take your PS5 to a service store.