When the time comes for you to check the feed of your Ring Doorbell Camera, there are a couple of convenient options. But, what if you want to display the video on a smart home device like the Echo Show? Well, this feature hasn't always been supported by Amazon devices, but there have been a lot of updates to Amazon products in the recent past.
To make a Ring Doorbell auto-display to an Echo Show, you'll need to go into the Echo Show's settings via the Alexa app and then select "Ring" in the marketplace within the "Skills and Games" sub-category. After going to the Ring Login page, enter your credentials and then click "Discover Devices."
Even without connecting to an Echo Show, the Ring is already so convenient. It has taken the old boring doorbells of the past and catapulted them into the 21st century. Combining that convenience with the smart features built into your Amazon smart home device is just a no-brainer. If you want to learn more about connecting your Ring to your Echo device and some cool features, read on!
How to Enable Ring Doorbell/Echo Show Automatic Functionality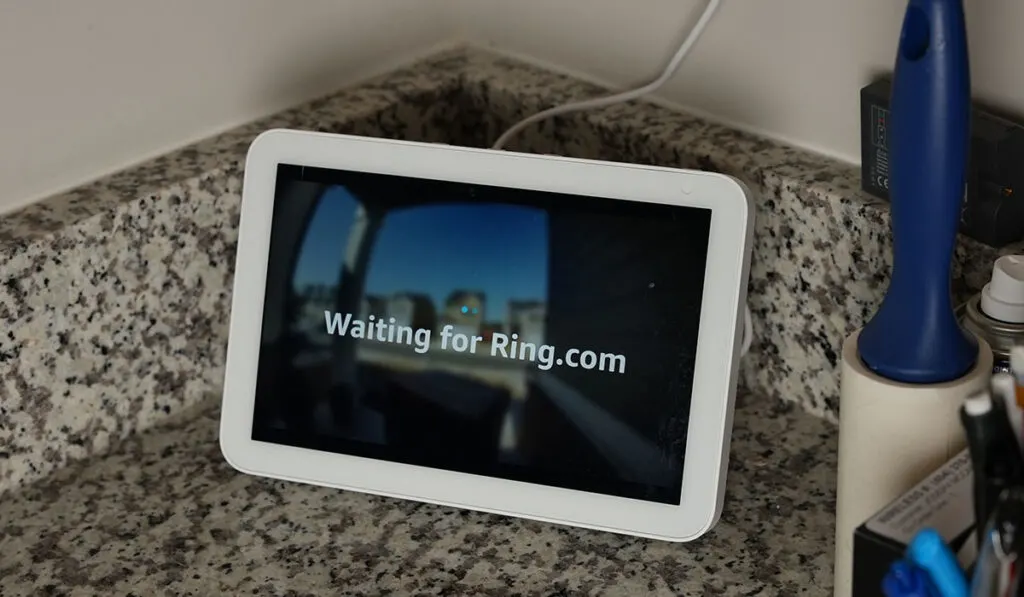 When it comes to device integration, smart home systems take the cake. Not only are they meant to work with other brands and products, often they are designed with this function in mind. Amazon is so confident that the Ring and Echo work well together they even sell them as a package (again on Amazon).
It's worth noting that buying the package won't make installation easier. You will still have to follow the steps necessary to connect the two devices.
But, how do you do that? Let's find out. Before we start, you should have all the preliminary things taken care of. This means powering on all devices and connecting them to your overall network. How to Enable Ring on your Echo device:
Find the Alexa App on your smartphone or another device.
You should see three lines in the top-left corner of your screen; click them.
Next, find Skills and Games and select it.
You should now see the marketplace. Find the search functional
Type in "Ring."
There should be several options available on the search results page. Find the Ring skill and install it.
Tap Enable to Use
From here, the app will take you to a Ring login page. Enter the correct credentials for your account.
Once you sign in, the app should remember your device.
Now that your Ring is connected click Discover Devices
Before long, you should see all the Ring devices you may have on your account pop-up.
Find the correct doorbell, if there is more than one, and make sure the Live Feed option is checked on the right-hand side.
This should enable the automatic function for your Echo device.
Can You Make your Ring Doorbell Display on your Echo Show Automatically?
[amalinkspro type="image-link" asin="B081BTSFPL" new-window="true" apilink="https://www.amazon.com/dp/B081BTSFPL?tag=sortatechy0a-20; addtocart="false" nofollow="true" alt="Echo Show 8 Charcoal with Amazon Smart Plug" alignment="aligncenter"]https://m.media-amazon.com/images/I/418I1VmUgzL._SL500_.jpg[/amalinkspro]
Amazon is constantly updating its products to better integrate with other devices. With the Ring Video Doorbell (on Amazon), the Echo ecosystem has always supported integration. But, when it came to automatic video feeds triggered by events, it was lacking.
That was until a recent update added some new features when it came to the Ring. As of January 2020, Echo devices can now support live video displays triggered by your Ring. This means as soon as you have someone ring your doorbell or set off a motion sensor, the video feed will display automatically.
Currently, there are still some hiccups in the system. Things don't always connect, and the way you need to access your Ring account could use improvement. But, overall, most users find the feature works well. While you may have better luck with a newer Echo device, like the Echo Show Gen. 3 (also on Amazon), most devices with a screen can support Ring integration.
To gain access to these features, you need to work within the Alexa app. Set up is generally pretty easy and not like other smart device setups. Let's find out more when it comes to setup and installation.
What Are Some Other Features of the Ring/Echo Combo?
[amalinkspro type="image-link" asin="B085VHPH8P" new-window="true" apilink="https://www.amazon.com/dp/B085VHPH8P?tag=sortatechy0a-20; addtocart="false" nofollow="true" alt="Ring Video Doorbell 3 with Echo Show 5″ alignment="aligncenter"]https://m.media-amazon.com/images/I/31MvbU7TtsL._SL500_.jpg[/amalinkspro]
While automatic video answering is great, there are some other functions you should be aware of. These can add some convenience to your Ring and be features you use daily. Let's discover some of them and walk through how to enable these features.
View a Live Video Feed
Sometimes you just want to see what's going on at your front door. Whether it's checking for the pizza guy or seeing what makes that noise out front, you can do everything with your Echo. Once you have your Ring connected, you can now ask your device to see the live video feed.
Here are a couple of commands to know. These are the two main commands when it comes to bringing up a live video feed. This will allow you to view a feed at any time conveniently: 1) Alexa show me "name of your Ring" and 2) Alexa stop showing me "x.'
Doorbell Press and Motion Announcements
If you want to be up to date on all that happens in front of your door, you need to enable these notifications. They can add some peace of mind when it comes to being in your home. It ultimately adds to the convenience of the Ring by enabling connections across multiple devices.
This works especially well if you own multiple Echo devices across your home. Here is how to enable those notifications:
Navigate toward the Alexa app on your phone
Find the three bars at the top-left of the screen
Next, find devices
You should see an option for cameras; click it.
Find and select your Ring Doorbell.
You should now see a whole host of options to choose from.
Find motion and doorbell press announcements.
Toggle the slider to the enabled position.
You should now have notifications enabled for your Ring.
In addition to its weatherproof and water-resistant structure which we talked about more in our guide, another great feature of the Echo and Ring is the enhanced customization. You can have doorbell notifications go throughout the home, provided you have a network of Echo devices. If you want to change the notifications sound, you can do that too.
Under the setting for each device, you should see an option to change the doorbell sound. This can be great if you already have other devices connected to your Ring.
It will help you differentiate between the sounds that your Echo plays. These features can be great because they add another layer of awareness to your overall security system.
Some Other Great Features
If you want only to have your feed come up when you want it to, you can also enable that. While having the Ring Video feed pop-up when someone rings your bell is great, sometimes you don't want your microphone to enable.
If this is the case, you will need to adjust the Alexa app settings to disable this function. Once it has been disabled, you will still get notifications but no automatic display.
To enable the video feed, you will need to say: 1) Alexa view the front door, or 2) Alexa answer the front door. Another feature you may find useful is viewing past doorbell footage. This is only available for Ring Protect Plan subscribers.
If you are part of this group, all you need to do is ask Echo to show you a video from past days. Just say, "Alexa, show me the last activity from (camera name)."
Can You Open the Door With Your Ring?
Simply put, you can't with just the Ring. The Ring is designed to be a smart doorbell replacement, not a smart lock. Adding a smart lock to your Echo system is not that hard of a task, though.
Products like the August Smart Lock (on Amazon) are easy to install and set up. Adding them to your Alexa app is as simple as it was for the Ring.
All you need to do is add the skill inside the app and move through the dialogs. Pretty soon, everything will be connected and ready to go. With a smart lock and the Ring, you can quickly answer the doorbell and unlock the door for guests. This can add another layer of convenience and fun to your smart home system.
Wrapping Up
It's easy and painless to connect your Ring to your Echo Show. Once you have, adding features like automatic feed display are a breeze. All you need to do is navigate the Alexa app and find the right skills.
You can set the feed to display once the bell is rung or the motion sensors are triggered. Additionally, you can have the Ring's notifications display and play on all Echo devices. If you don't want the feed to connect automatically, that is easy to do as well.