The PS5 external disc drive doesn't work on the PS5 Digital. Sony's PS5 Slim can add an external disc drive, but the PS5 digital edition isn't compatible with the peripheral.
This means that you will have to download your games directly to PS5 digital, which also can't play DVDs or 4K Blu-ray discs. The PS5 Digital Edition also doesn't support any USB drives. You'll have to get the standard PS5 model to use physical discs.
We'll first talk about the newest PS5 variant: the PS5 Slim with an upgradeable external drive. After that, we'll look at your options if you want to get your disc-based games onto the PS5 Digital or PS5 Slim without a disc drive.
Key Takeaways
The PS5 External Disc Drive only works on the PS5 Slim, not the PS5 Digital Edition.


You can't get PS5 games you own on disc onto your PS5 Digital or PS5 Slim without disc drive. In order to get physical PS5 game discs onto a digital edition PS5, you would need to purchase the digital version.


The PS5 Slim version with a disc drive is $50 more expensive than the one without it. However, this means there are technically three PS5 models now: PS5, PS5 Digital, and PS5 Slim.

The PS5 Slim and External Disc Drive.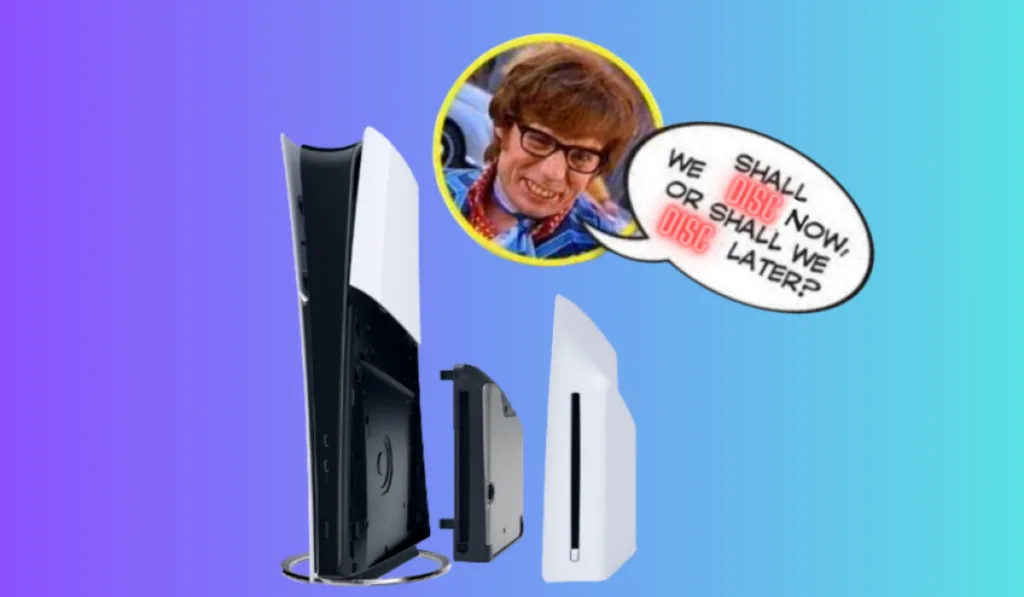 When Sony unveiled the sleeker PS5 Slim to the world as their flagship home video game console, the most notable upgrade was the option for a removable disk drive. There aren't two versions of the PS5 Slim, there is just the 1 PS5 Slim with an upgradeable disk drive as an option.
PS5 Slim Price: The PS5 Slim comes in two versions:

With a disc drive: Priced at $499.99.Digital Edition: Priced at $449.99.

(It's worth noting that these prices remain unchanged from the original PS5's pricing.)
Peripherals and Add-ons: The PS5 Slim includes a horizontal stand in its package. However, for those who prefer to display their PS5 vertically, a separate stand will be available for purchase. The PS5 vertical stand was free with the original PS5, so its separate cost for the Slim is a bit annoying.
Release Date: The PS5 Slim was announced on October 10, 2023. It is release date of November 2023 wasn't set at a fixed date, with Sony instead coordinating a regional rollout.
Of course, owners of the PS5 Digital edition quickly wondered if they could now add a disc drive to their console, but there's no indication that will happen. According to gaming investigative journalist Tom Henderson in a Tweet on Jan 13 2023 that the disc drive wouldn't be compatible with the PS5 Digital.
This decision aligns with Sony Interactive Entertainment's business goals. They want to push gamers to their newer ninth generation video game console, to compete with Microsft's Xbox Serios X/S consoles which continue to improve.
The hardware in the PS5 Slim has been reduced from the PS5 by around 30%, but it's kept the advanced system on a chip designed by AMD (a custom 7 nm chip), and it still has that advanced heat sink. The vapor chamber and liquid metal technology Sony tout's in the machine means that the Slim will if anything outperform the PS5 and PS5 digital in it's smaller form factor.
The Two Different Legacy PS5 Consoles: Digital Vs Disc
The first obvious distinction between the Standard PS5 and the PS5 Digital Edition is that the former includes a disc drive while the latter does not. You'll need the disc version of the PS5 if you collect physical movies or have a large physical PS4 game collection. The PS5's digital version isn't disc compatible, but the PS5 with a disc drive can even play DV Ds and HD Blu-rays as we've looked at before.
To play games on the PS5 Digital Edition, you must first download them from the PlayStation Store and then save them to your console. The PS5 Digital Edition costs $399.99 and does not have a disc drive, while the PS5 costs $499.99 and has a disc drive.
The main difference between the two devices is that the PS5 Digital Edition is lighter because it lacks a disc drive.
That means you must download any game you want to play on the Digital Edition directly from the PlayStation Store. Since you won't be able to use physical discs on your PS5 Digital Edition, it's more of a digital-download hub than a traditional gaming console with disc compatibility.
The optical drive of the standard PS5 model also functions as a Blu-ray player with 4K video capability. The standard PS5's disc console expands the range of home entertainment options available to you, including DVDs and Blu-ray discs. The Digital Edition lacks this feature, unfortunately.
And before you ask, no, you can't play your PS5 discs in a PS4 you may have lieing around! If you have a PS5 game disc, you typically just need a PS5 with disc drive to play it! You can gameshare from a PS5 to a PS4, but your options of titles may be limited. See more on PS5 gamesharing here.
Physical Appearance
With a side bulge and a prominent optical-drive slot, the standard PS5's disc drive makes this version of the console slightly less symmetrical.
With its "snatched" waist, the Digital Edition is sleeker and more symmetrical than its counterpart. The console's curving white shell that drapes over the black core gives it a strikingly modern feel. The Digital Edition is unquestionably more visually appealing than its disc-based counterpart, which may seem a little clunkier by comparison.
The PS5 Digital Edition is designed for bold players who are ready to leap headfirst into the near future of digital-only gaming. The basic PS5 model is best for those who aren't ready to commit to a system without an optical drive.
Which Is Better?
To answer this for yourself, you could think about if having the optical disc version of a game is really that important to you. Playstation 5 is one of the most incredible consoles ever made, but there's a reason they make two of them. To understand which is best for you, check out this quick review of the older models, which will be at great prices when the PS5 Slim becomes more popular.
Can You Mod a Disc Drive To The PS5 Digital Edition?
No, the PS5 Digital Edition does not contain a disc drive and can't play any discs as a result. If you want to use CDs, DVDs, or BluRay discs with your PS5, you'll need a standard version with a disc drive and disc-based media support.
You have to download your games straight to the PS5 Digital Edition's solid-state drive (SSD). It also cannot play any 4K Blu-ray discs or DVDs. While there are USB-connected external disc drives on the market like this LG model (on Amazon), the PS5 Digital Edition does not support them.
You're out of luck if you bought a PS5 Digital Edition with the intention of modding it to have disc compatibility. The standard PS5 is the only one that can play discs.
You can technically connect an external disk drive to the PS5 Digital Edition, and it will turn on. However, the system won't read and recognize discs through the drive, so it's a no-go.
The standard PS5 has a disc drive for games, 4K Blu-ray, and DVDs, unlike its somewhat thinner digital cousin.
The standard version costs $100 more, but other than the disc drive, the PS5 Digital Edition suffers no other disadvantages.
Frequently Asked Questions (FAQ)
Do external disc drives work on PS5?

As of now, the PS5 does not support external disc drives for playing games, except the one they created for the PS5 Slim. However, you can use external drives to expand storage.



Is it better to buy a PS5 digital or disc version?

This depends on your preference. The digital version is more streamlined and doesn't require physical discs, making it convenient for those who prefer digital libraries. The disc version, on the other hand, allows for physical game collection, and resale of games, and might offer more flexibility in terms of game prices. It may make financial sense if you struggle to afford new games and don't care to keep older ones.



How do I convert disc games to digital on PS5?

Currently, there isn't a direct method to convert physical disc games to digital versions on the PS5. If you want a digital version of a game you own on disc, you would need to purchase the digital version separately.