In February, the Steam Deck, a more computer-based and versatile version of the Nintendo Switch, was released, featuring its Desktop Mode, which allows the device to act as a regular computer. So naturally, many wondered how they could use their Steam Decks like computers and how successful that would be, the first and most testing question being, "can I hook up a keyboard and mouse to this thing?"
The Steam Deck can use various Bluetooth devices, including keyboards and mice, and also has a USB-C port. Setting up these devices is easy, but they're going to need to be Bluetooth, or you'll need a USB-C dongle to manage charging along with other connections.
Though the answer is yes, you can use the Steam Deck with a keyboard and mouse; there are setbacks to setting it up and the actual use in terms of support and the device's operating system. However, there are many ways to fix/overcome these issues. So let's take a look!
Can You Connect a Keyboard and Mouse to Your Steam Deck?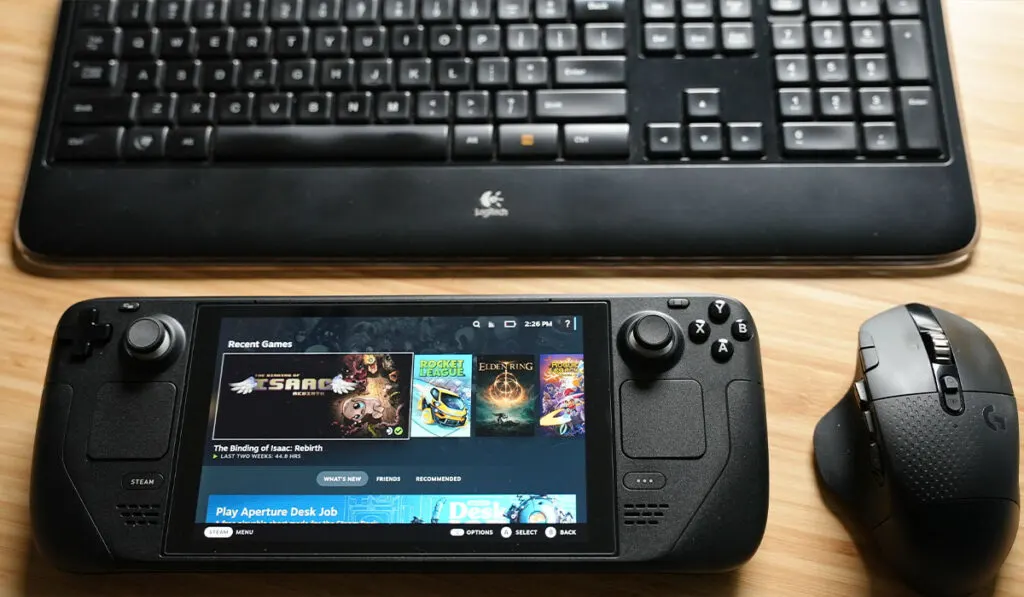 The simple answer to this question is yes, and it works well! The first step to this process is putting your Steam Deck into desktop mode. To do this:
Click the lit-up icon on the left side of your handheld. It should have the Steam logo in white with a dark blue background.
A set of options should appear on your screen, including a power icon. Click it.
After clicking it, another set of options should appear, including the word Desktop.
Click on this icon, and you've made it to Desktop Mode!
The hardest has passed; now, it's just connecting a keyboard and mouse to your computer.
Downsides of Connecting Keyboard and Mouse to Your Steam Deck
The main problem with connecting your keyboard and mouse to the Steam Deck is it's likely not too similar to your regular computer, being that the Steam Deck doesn't run as a Windows or Mac (which a vast majority of users reading this are using); it runs off of Linux.
Will Keyboard and Mouse Work with the Steam Deck?
There's not as simple an answer to this question. Suppose you love using a keyboard and mouse for gaming and refuse to use the joystick and D-pad attached to the Steam Deck. If you find the onboard peripheral options, it probably won't seem worth it. Here's why.
Not a Computer
The first issue with the keyboard and mouse is that the Steam Deck isn't a computer! It's just not. If you took a Steam Deck to work in hopes that you would be able to use it for your job, you will be greatly disappointed.
The desktop mode is the only part of the Steam Deck that supports the keyboard and mouse all around; if you try to use them in the Steam Deck's normal mode, the keyboard and mouse might not be supported, depending on which game you play.
If You're Using Bluetooth
The second setback for keyboard and mouse enjoyers is when they use Bluetooth for their Steam Decks. Though this might not seem like a problem initially, Bluetooth isn't ideal for gaming for a few reasons.
First, Bluetooth has a much higher latency because of the nature of its connection. So, you're probably upset by Bluetooth peripherals if you're trying to reduce lag and latency while playing an intense online game.
The second reason is that it's rare. Most people don't use Bluetooth for their peripherals, so most Bluetooth keyboard and mouse options will be outdated or cheap.
Finally, the Steam Deck is on Linux, the least popular major operating system, because it's hard to use. So, if you commit to a Bluetooth keyboard and mouse, you should ensure you understand how to use Linux.
How to Connect a Mouse and Keyboard to Your Steam Deck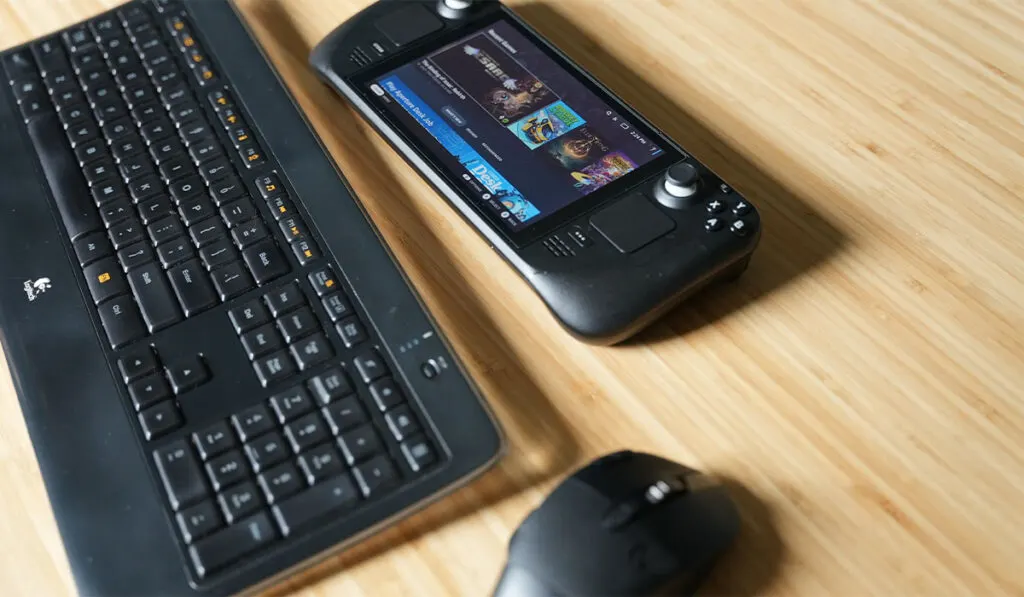 Bluetooth
We've established that you can use a Bluetooth keyboard and mouse with your Steam Deck, which runs on Linux, so let's get right into the steps.
Click on the three dots that indicate a menu.
From those three dots, select the cogs that mean Quick Settings.
Scroll down until you see Bluetooth, and click on that.
From Bluetooth, select New Device and proceed with pairing as though it were any other device.
Follow the instructions on the device's (keyboard or mouse) manual.
And there we go! You've set up a mouse and/or keyboard in four easy steps on your Steam Deck!
USB-C
The Steam Deck also has a single USB-C port. So if you don't feel like using Bluetooth as your primary connection, you can use a USB-C dongle with multiple USB-A connectors to hook up the USB dongles for your mouse and keyboard.
There are many of these devices, such as the Anker USB-C Hub (on Amazon), that are easy to get a hold of, so if you don't want to deal with Bluetooth, this is the way to go.
Compatible Mice and Keyboards
Mouse
As we've established, your Steam Deck won't work with a regular USB mouse, only Bluetooth. Sadly, most gaming companies avoid adding a Bluetooth option to their mouse, as it's known to have a higher amount of latency than a USB cord or wireless USB receiver.
Luckily, plenty of companies still create high-quality gaming mice! Here is our favorite.
Logitech G604
The 605 (on Amazon) is slightly on our pricier side, sitting at ~$100. But that price doesn't come without some excellent features. Beyond Bluetooth, this mouse comes with a USB dongle and a dongle extender.
Though this mouse does not recharge, Logitech suggests it will last up to 5 months with standard usage on Bluetooth Mode.
Keyboards
Though mice get incredible attention in gaming, keyboards are essential. So here is our favorite keyboard for this setup.
Logitech G915 TKL
[amalinkspro type="image-link" asin="B085RMD5TP" new-window="true" apilink="https://www.amazon.com/dp/B085RMD5TP?tag=sortatechy0a-20; img-size="500,500″ addtocart="false" nofollow="true" alt="Logitech G915 TKL Tenkeyless Lightspeed Wireless RGB Mechanical Gaming Keyboard, Low Profile Switch Options, LIGHTSYNC RGB, Advanced Wireless and Bluetooth Support – Linear, Black" alignment="aligncenter"]https://m.media-amazon.com/images/I/41cFYGx8moL._SL500_.jpg[/amalinkspro]
This is one of the best keyboards around, period. Regardless of the Bluetooth option, this board is the choice of professionals. The latency of the G915 is as low as it gets, and the keyboard is incredibly customizable. The only drawback is the price. Profession grade means profession costs! In this case, that cost is USD 200!
Conclusion
To wrap this up, the Steam Deck is a versatile device that can almost imitate a desktop computer. Though there might be some difficulty in setting up your keyboard and mouse, they can easily be fixed by following these steps.
And while you may need to buy a Bluetooth device or a USB-C dongle, some excellent and affordable options exist!