The Steam Deck is the latest handheld gaming device from Valve. Moreover, the Steam Deck acts as a handheld desktop pc with several unique features. So how can you access Desktop Mode from your new device?
You can access Desktop Mode by holding the power button down until a menu appears and selecting the 'Desktop Mode' option. Your Steam Deck will swap to Desktop Mode, allowing you to browse the internet, install software, and more.
You can also connect your Steam Deck to external displays using third-party accessories. And the Steam Deck has several exciting features that can transform your handheld gaming experience. Here's everything you need to know and more about using Desktop Mode on your Steam Deck.
What is Desktop Mode?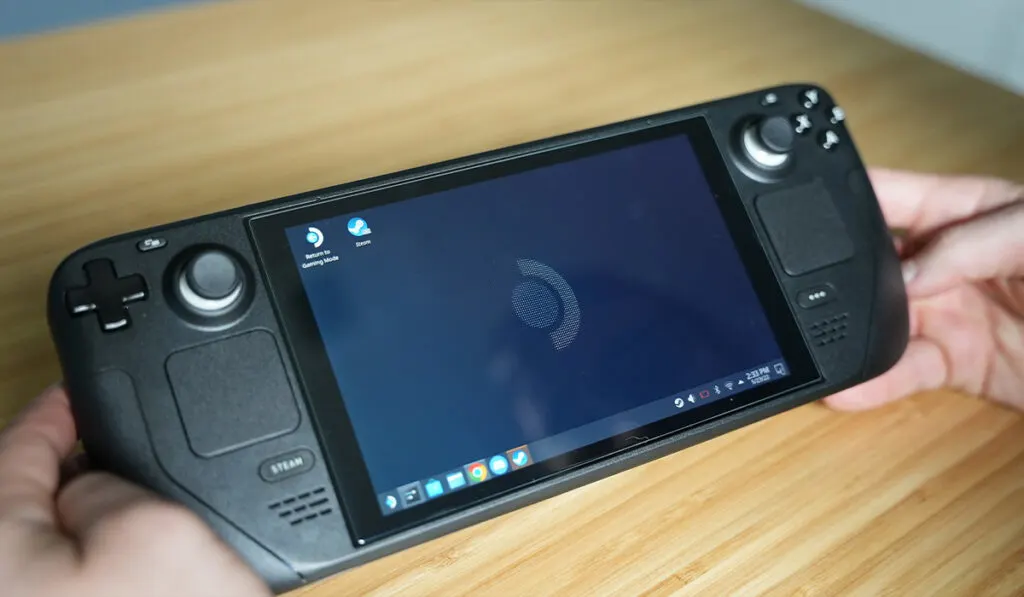 The Steam Deck is a handheld gaming PC that uses a modified version of Arch Linux known as SteamOS for its main gaming interface. You can swap from the SteamOS interface into Desktop Mode to unlock several additional features.
The Desktop Mode is running a version of Linux called KDE Plasma. It works
For example, you can browse the internet, install software, alter files, and much more in Desktop Mode.
The Steam Deck already includes a few pre-installed applications you're probably familiar with, like Mozilla Firefox. But one of the unique features is that you can connect your Steam Deck to a computer monitor and create a mini PC, as long as you meet some basic requirements.
How to Access Desktop Mode on a Steam Deck
Switching to Desktop Mode while using the Steam Deck in handheld mode is incredibly straightforward. Here are the steps for switching to Desktop Mode on your Steam Deck:
Hold down the power button. A pop-up menu should appear on your screen.
Select Switch to Desktop. Now your Steam Deck should re-boot into Desktop Mode.
You can access the pre-installed Mozilla Firefox browser after switching to Desktop Mode or install another browser that meets your preferences, such as Windows.
Connecting Your Steam Deck Via USB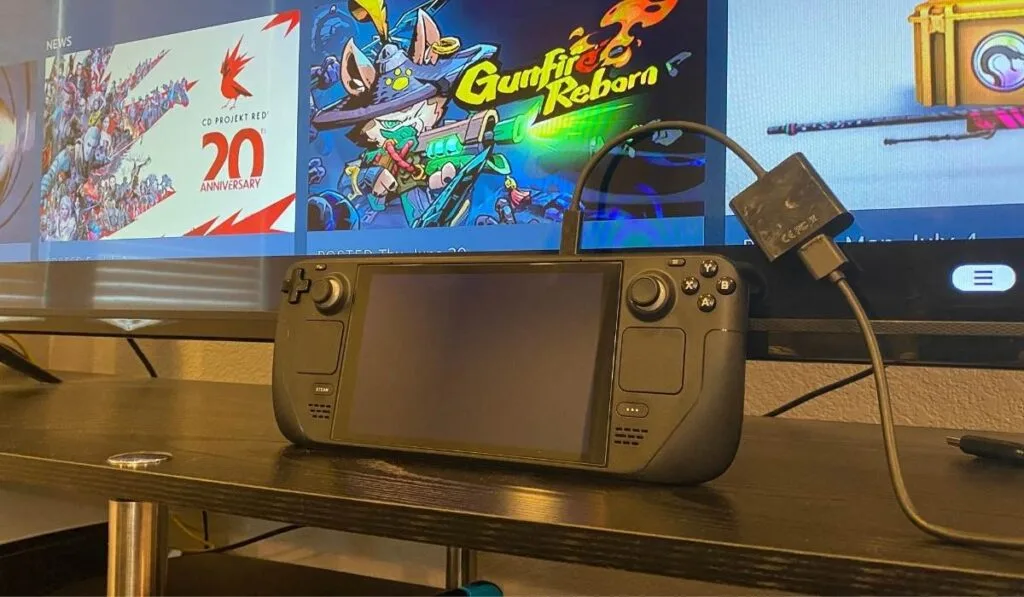 You can also connect your Steam Deck to an external monitor and hook up some accessories to create a desktop environment. Unfortunately, the Steam Deck doesn't have an official consumer Docking Station just yet, but you can use a USB-C dongle instead.
Here are the basic requirements for a USB-C dongle or hub:
The device needs to have a USB-C connection.
The device needs to be a self-powered hub or cover a minimum USB-C Power Delivery of 45W. This allows you to plug in your Steam Deck's power supply without losing charge.
The device needs at least one USB 3.0 port, but two are preferred.
The device needs an HDMI port if you plan on connecting your Steam Deck to an external monitor.
Connecting to an External display
Connecting your Steam Deck to an external display is reasonably straightforward. Your Steam Deck will automatically detect the external display once you plug it into your connected USB-C hub.
However, you'll most likely need to adjust the resolution, refresh rate, and orientation. But you can access external display settings by:
First, hit the Steam Deck logo near the bottom left corner.
From there, select Settings.
Then hit System Settings.
And finally, Display and Monitor.
You can adjust any settings from the Display and Monitor menu and save them by hitting Apply.
Your Steam Deck should remember these settings even if you swap between handheld and Desktop Mode.
Connecting Steam Deck Accessories
Some gamers have reported difficulties with Linux operating systems and pairing accessories like Bluetooth devices. Thankfully, this doesn't seem to be the case with Valves SteamOS software.
You can connect wired devices through your connected USB-C hub or dongle. You can pair Bluetooth devices like headphones, mice, keyboards, and more through the Bluetooth menu in System Settings. You can even pair unconventional devices like Apple Magic Keyboards with the Linux software.
You might want to connect Bluetooth speakers or headphones for listening to music or gaming. You can also easily pair Xbox Series, PS4 DualShock, and PS5 DualSense controllers. However, it's still possible to run into minor issues depending on the device you pair, and your experience will vary.
Can I Use Desktop Mode Without a Mouse and Keyboard?
Yes, it's possible to use Desktop Mode without a mouse and keyboard. You can use the trackpad on the Steam Deck device as a mouse. Additionally, you can press STEAM + X to bring up an on-screen keyboard. Valve states they're still working to improve this, and you might find situations where a physical mouse and keyboard are preferred.
Other Ways to Connect
Additionally, you can purchase a USB-C hub or dongle with an ethernet connection for extra features. You can use a USB-C hub or dongle that matches the criteria above to connect accessories, like keyboards, mice, or even your bluetooth headphones.
With the added ethernet connection, you can hook up to the internet and use your Steam Deck for semi-remote gaming. You'll still be tethered to the ethernet cable, but you'll have more leg room to move around and faster speeds.
You also have the option to connect wirelessly using Remote Play. This feature allows you to stream games to other devices via Wi-Fi.