Lagging phones and storage issues can be quite annoying, but what can really ruin your day is when you try to fix the problem and the storage app refuses to load. Lately, many iPhone users have been complaining about this issue. So, what should you do if your iPhone storage won't load?
If your iPhone storage data won't load, force quit the Settings app and relaunch it. You can also try restarting the phone, doing a manual iCloud backup, or syncing your data by connecting your iPhone to a computer with a cable. Consider restoring the phone to factory settings as a last resort.
iPhones are normally pretty efficient at managing storage — unless there is an issue with iOS. This particular glitch also began when Apple started the beta testing of iOS 15. It not only affects the loading of the storage app but also messes up deleted data and backups. So, let's see how you can fix this problem.
How to Fix iPhone Storage Loading Issues?
Since the storage loading issue stems from a software bug, the best option would be a software fix by Apple. But surprisingly, the company hasn't been able to fix it even with the latest iOS update. In the meantime, users are stuck trying to find workarounds.
That means there's no definite solution to this problem, and different users have had success with different methods. We've compiled a list of some of the most popular methods to fix this issue so that you can hopefully find one that works for you.
Be Patient
This may not be your favorite fix if you're in a rush or feeling antsy, but more often than not, the storage app just needs a couple of minutes to load. This is especially the case if you've cleaned up your storage space recently; it may take longer for the app to update and show the available storage. But if it still doesn't load after a couple of minutes, you should try one of the other methods.
Force Quit Settings
If you see that your phone is stuck on the loading screen, try quitting and relaunching the Settings app. This might refresh the data and get the app working again. If the relaunch doesn't work, force quit once more to continue to the next step.
Run iCloud Backup
One of the reasons the storage data might not be loading is if you have a lot of data that needs to be backed up to iCloud. Or it might be that your iCloud is running and the storage app can't calculate the data uploaded to the cloud. Running a manual backup from Settings may help fix this issue.
Reboot the iPhone
Restarting or rebooting your device is one of the oldest and most reliable methods to fix any software issue. This allows the phone to clear up minor software glitches and start fresh. If you haven't rebooted your phone in a while, it's recommended that you try this method first.
Reset Your iPhone
This is a bit of a drastic measure, but if none of the above methods worked, you could reset all your phone's settings. This won't delete any of your data, but it will change all your preferences to their default values. So you might have to go into each individual app and adjust the settings according to your needs.
How to Force a Restart
If your iPhone is hung up on the loading screen and you can't get it to respond no matter what you do, you'll have to force a restart. Follow the steps below to force restart your device.
On an iPhone 6S or earlier, press and hold both the Home and Top (or Side) buttons simultaneously until you see the Apple logo.

On an iPhone 7 or iPhone 7 Plus, press and hold both the Wake and Volume Down buttons at the same time until you see the Apple logo.

On an iPhone 8, iPhone X, or later, press and release the Volume Up button. Then press and release the Volume Down button. Finally, press and hold the Side button until you see the Apple logo.

Connect Your Phone to Your Computer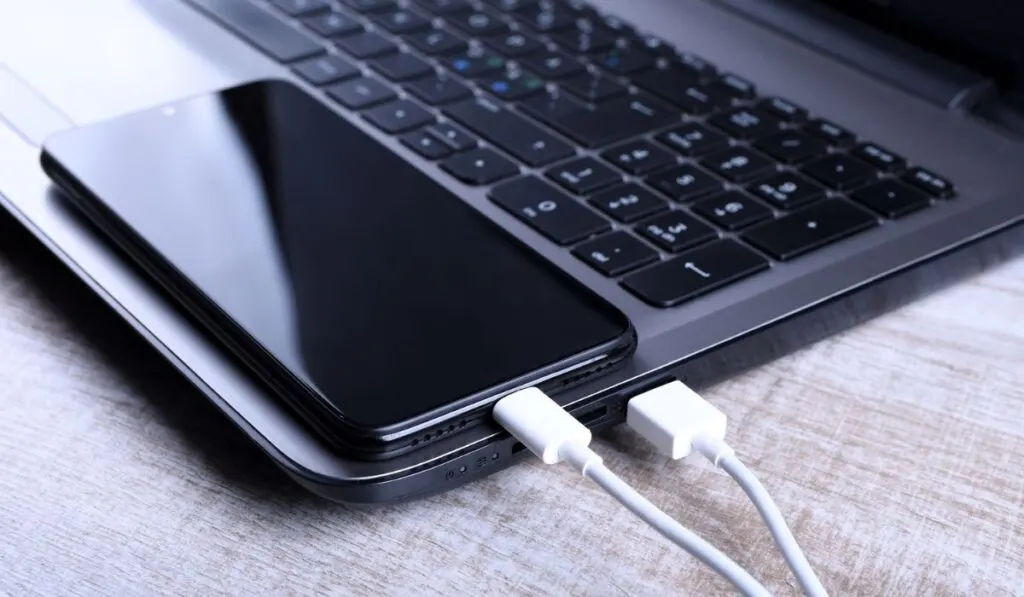 Sometimes iPhones' storage glitch is accompanied by other issues, one of which is mis-registered deleted files. This means that even though you delete certain files, the system does not recognize them and continues to show the deleted files taking up space.
Some users have successfully resolved this issue by syncing their iPhones to a computer with a cable. This helps the storage app update and show available space.
You can connect your phone to your computer with a Lightning cable (on Amazon) and run a regular sync, or you can use recovery mode to solve the problem. This method works best for iOS 14 users, but it's worth a try even on older versions of iOS.
Check Your Phone's Deleted Files
Sometimes when you delete a file from your iPhone, it goes to the Recently Deleted folder first. This happens mostly for photos and videos but is also possible for other types of files.
So, if you aren't seeing any change in the storage even after deleting some files, you should check the Recently Deleted folder. To do so:
Open the 'Photos' app and go to 'Albums.'

Tap on 'Recently Deleted' and delete the files from here.
This will free up storage on your iPhone for sure.
Watch Out for Other Common iPhone Issues
Hopefully this has sorted your problem out, but if you've made it this far we assume your an iPhone Power User and you'd benefit from know a about a few of out other iPhone troubleshooting articles. If the top left of the screen becomes blurry, or if you see problems with auto-dimming or simply a black screen or a screen that won't work at all, we've got the help you need right on our blog! Check our our article on the iPhone's TrueDepth camera if you're having issues with that system.