Digital art is art which is made using a computer in some way. Everything from a touched-up photo to an illustrated graphic is 'digital art.' If you want to make digital art, you'll need a laptop in order to do so.
Both Apple and PC products are good devices for creating digital art, but all devices have pros and cons. Apple laptops and tablets are user friendly and easy to use, but may not be compatible with all design software. PC laptops are economical, but also more prone to viruses and other malware.
Not sure which device is best for your specific needs? Let's look at all of the top rated laptops for digital art.
What Are the Best Laptops for Digital Art?
It is a difficult question to answer. Some factors affect what 'best' will mean for you. The answer mostly depends on the type of digital art for which you plan to use the laptop.
Different disciplines require different amounts of processing power. You also may require different hardware capabilities and accessories depending on what you plan to design.
The best way to decide on the correct laptop is to list what you need from your hardware. Then compare that to the prices of devices within your budget.
The Best Apple Laptops for Digital Art
With all that in mind, let's look at the best Apple laptops for digital artists.
MacBook Pro (2021 or Later)-Videos
Combining powerful hardware with fully optimized software is desirable for working with media. The MacBook Pro is the expression of taking that idea to the extreme. It has always been a top-tier media production machine.
However, in recent years Apple has improved upon the formula even further. Instead of the best industry-standard hardware, Apple developed its own. Many of these new software programs (like Final Cut Pro)can make digital art, especially video editing, much easier.
Plus, MacBook Pros have the best screen in the business (at least those made after 2021 do) so you can see your digital art in incredible resolution. The colors will be more accurate than with other laptops which is important when you need to show a client work in order to sell it.
The MacBook pro is one of the few glitch free computers on the market, so you can work efficiently without having to worry about unnecessary delays.
MacBook Pro Hardware
Inspired by the power and efficiency of the iPhone A-series processors, Apple developed a powerful chip destined for their Macs. Their M-series is now in its second iteration, with the third expected soon. Apple is also diversifying the number of products equipped with the processor.
The MacBook Pro is the most powerful M-series-equipped laptop because it uses the most powerful additional hardware to show off the potential of the new configuration. You can think of it in terms of the range of iPhones. If the M-Powered Mac devices are the standard iPhones, the MacBook Pro is the equivalent of the iPhone Pro Max. The best Apple has to offer.
This additional power is ideal when editing videos as videos take up a lot of bandwidth. For those editing long videos, the MacBook pro is especially ideal.
Macbook Air-Graphic Design
Not all digital artists are making videos. If you are a digital artist who does more in the way of graphic design, the MacBook Air can be a good option as it is cheaper than the MacBook Pro but has similar features.
The MacBook Air is a slim, light, and easy-to-carry device. With the addition of a quality mouse, Adobe Illustrator users need nothing more to spend their days designing digital art.
The ease and convenience of using a MacBook air are not the only factors contributing to its place on our list. We've discussed the benefits of Apple's M-series processors at length. The latest MacBook Air laptops come equipped with M-series chips as well.
Naturally, they aren't paired with the same specifications as the Pro. Still, the Macbook Air does benefit equally compared to past iterations.
If you are looking at a MacBook Air for digital design, you'll want to look at a newer version (the same as the MacBook Pro) as the newer renditions of these devices have the high quality screen which is preferred for digital art. While you won't get the same screen as a MacBook Pro, it will still far surpass any screen on a Windows device.
Connecting An iPad Pro to Your MacBook Air
While many of Apple's features work across models, some are more convenient when used with a specific device. One such feature is the ability to link your iPad Pro to your MacBook Air and use it as an input to create illustrations.
More specifically, using the iPad as a drawing and editing tool. This means you can draw from the comfort of a table on your lap then later see your drawing on your larger MacBook Air screen. For this, you will also need the stylus when you purchase the iPad.
This interoperability is cool, but not required. You can still design just fine on a MacBook Air on it's own, you just can't really draw drawings on the screen (you'll need to use the mouse instead). So if you are an artist that draws, you might need to purchase both the MacBook Air and the iPad to design efficiently.
iPad Pro-Digital Art on the Go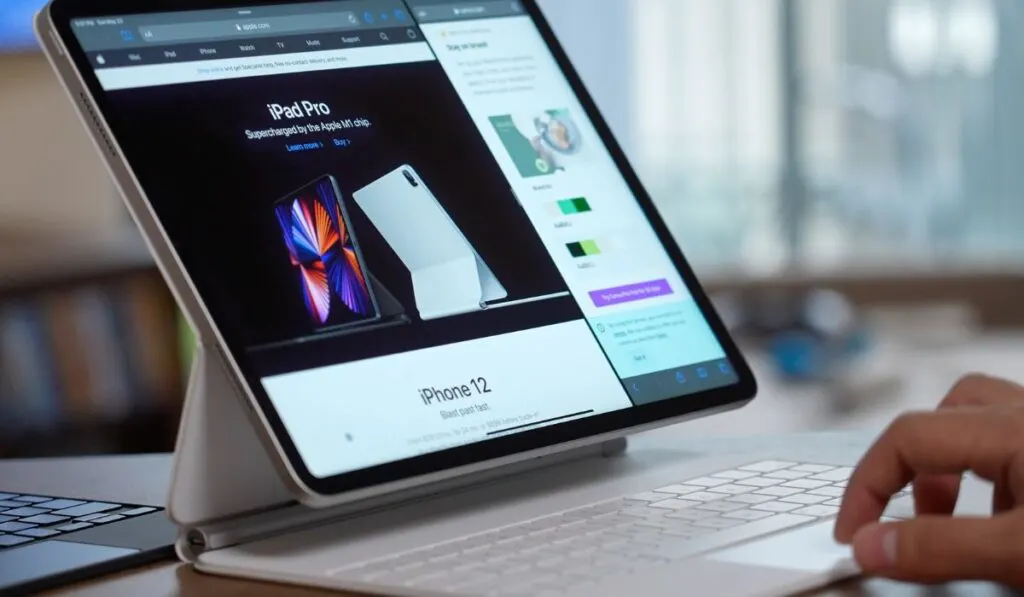 Many traditionalists find using an iPad exclusively to create digital media unappealing. That comes down to the differences in software interfaces and how you interact with the device.
But, for those who don't mind the software restrictions, the iPad Pro presents an exciting new way to create. While the iPad offers basic tools to interact with software and create art, the add-ons can create a more cohesive experience.
Plus, you can purchase an external keyboard for your iPad, as well as a stylus. This means you can illustrate with your stylus, but also use the keyboard for traditional shortcuts that digital artists come to rely on.
Using Apple's stylus, a digital pen, with the iPad Pro is the most intuitive and direct way to create digital illustrations and other artworks. And, as we mentioned above, it is easy to connect your iPad to other Apple devices to move your work around.
This means that even if you don't have the money for an MacBook Pro or MacBook Air right off the bat, you can start with an iPad and integrate all of your designs later on down the road (read our full comparison of the iPad vs a MacBook here).
With the iPad there are additionally many ways in which you can use its setup to create some very original works that have a clearly 'organic' style. For example, a favorite among digital artists is reworking and manipulating photos which is much easier to do with your hands (or a Stylus) than on a computer screen with a mouse.
The Best PC Laptops
Just because Apple laptops and devices offer the ideal platform for digital artists does not mean you should completely discount conventional Windows laptops. After all, the artist creates, not their tools.
While the unoptimized software sometimes found on Windows computers does have its drawbacks, many professional digital artists use Windows devices. There are great laptop options if it works for you and you prefer the Windows experience(or don't have the cash for a MacBook just yet!)
Dell's Alienware Laptops-Game Design
These are the best options for the artist who does not like working with Apple devices. Unfortunately, price-wise, the top-of-the-line models often outprice a MacBook Pro. However, you do get a lot of PC for the price.
Alienware is Dells gaming division PC. They have been around for decades and have a good idea of putting together great gaming laptops. The term 'gaming' comes up a lot when discussing this enthusiast focused brand.
That is because there is an enormous overlap between the hardware requirements of modern video games and those of digital artists. Specifically, it is GPU power and performance that links the two. Therefore, the Alienware brand offers some of the best laptops for digital artists thanks to an overlap in purpose.
So if you are in the market of designing games, an Ailenware laptop might suit you even better than an Apple device.
Microsoft Surface Pro-Basic Graphic Design
If you are looking for something more like a MacBook but in a Windows 11 flavor, the Microsoft Surface Pro range is your best option. These laptops are an unabashed answer to the Apple MacBook range. They even share one or two of the benefits.
While software developers don't (yet) develop versions of their product for the Microsoft Surface series, the laptops are designed by Microsoft, the same company that develops their operating system.
The Microsoft Surface Pro sports a minimalist design but runs on high-performance hardware that outclasses most Windows laptop competitors. These laptops can run most design programs, as well as perform some video editing. They don't quite have the processing power of a MacBook though, so full time video editors might not get what they need from this device.
Also keep in mind that Windows computers can sometimes suffer from glitches a bit more than Apple computers. While this may not bother you (especially since you are saving money on this purchase) it's a good idea to familiarize yourself with the interface of the Microsoft Surface Pro before attempting a large design project.
Dell XPS-Illustrations
The Dell XPS range is a good option if you are looking for an affordable laptop with the chops to handle media and digital art. Different models offer varying performance, but XPS laptops are all manufactured to stand out from your average office laptop.
They are not intended as provocative gaming machines. Dell has that market covered with the Alienware brand. Instead, the XPS series is marketed as a professional machine for the power user. These laptops won't scorch through video rendering or 3D design projects, but they can easily handle programs like Photoshop or Illustrator.
If you are just dipping your toes into graphic design or illustrating, then this laptop can be a great place to start. We also recommend it for students, and those who aren't sure they want to pursue a career in design just yet.
But if you know that you plan to design for a living, then it is better to pick a different laptop on this list which offers a little more capabilities.
What to Consider Before Purchasing a Laptop
You should consider several factors before you purchase a laptop to ensure it can perform the tasks you need it to do.
Battery Power
You should also consider the length of time you plan to use a device. Some laptops come with a battery that lasts 19 hours without needing to be charged (MacBook) while others only last for 12-14 hours.
This is important for those who plan to work while traveling (where an outlet may not be handy) but may not matter for those who will work from home 24/7.
You should also know that battery life degrades over time. Look into the laptop you are interested in and see how long you can expect it to last. As a rule of thumb, most Windows computer batteries last 3-4 years, while Apple product batteries last for around 7.
Future Upgradeability
It would be best if you considered upgradeability. That is an area in which laptops are restrictive in general. Neither Windows nor Apple laptops are very accommodating. However, upgrading RAM and storage space is easier with most Windows laptops.
Suppose upgrading in the future to keep your device for as long as possible strongly appeals to you. In that case, a Windows desktop PC is not only the best option but also your only realistic option.
That said, while Windows laptops offer some degree of upgradability, MacBooks enjoy years of software support from Apple. So you need to decide whether you are more likely to need to update the software or the storage space of your computer in the future.
Budget
We have touched on how the amount of time you plan to spend creating digital art should affect your decision. Furthermore, it would be best to consider whether you can capitalize on your work and how much it impacts your budget.
Suppose you are a professional creator with an established business or career. In that case, it is worth spending more on the tools of your trade.
Naturally, if it is a hobby, you should consider it when deciding what to spend. However, it also means that if you are an aspiring artist or creator, you should practice restraint and spend no more than you have to.