Regardless of whether you're a new owner of the PS5 or a long-time user, mounting the console may be something to consider. You can position your PS5 however you like, but one of the most convenient and elegant ways is mounting it up on the wall. Your PS5 console also gets more protection when you mount it up on the wall, since it's much less likely that anyone will trip or drop something on it.
Despite its size, you can mount the PlayStation 5 on the wall with the appropriate mount and a stud or anchor. By mounting your PS5, you can free up space, protect the console, and keep your entertainment system organized.
You probably spent a fortune on your PS5, so keeping it out of harm's way should be a priority. Mounting is a great way to do this, and there are various methods for mounting that you can choose from. Let's take a look at the benefits of wall-mounting your console and some of the best ways to go about it.
Can You Mount the PS5 on a Wall?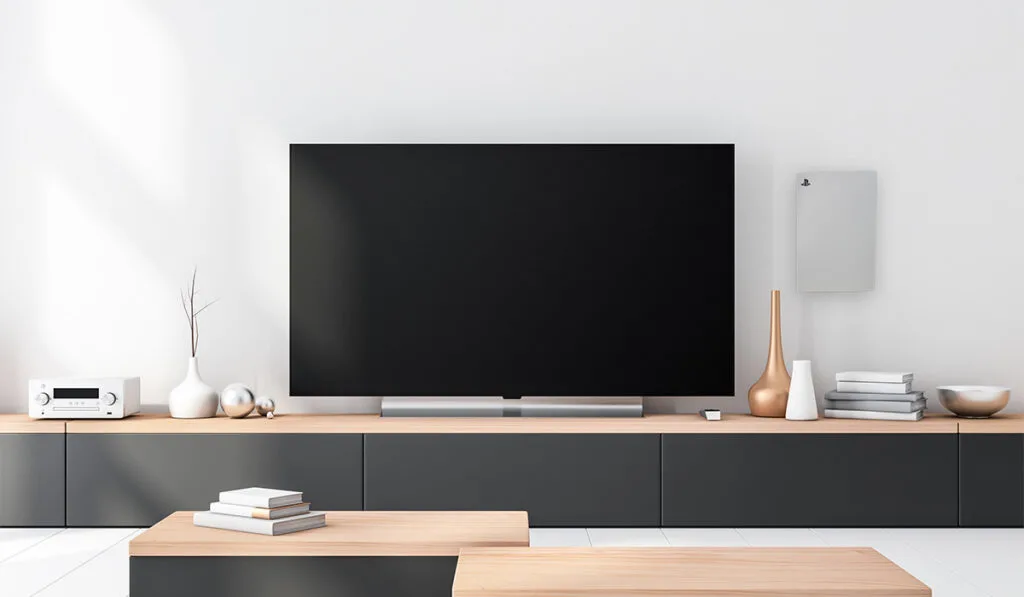 It's understandable that you may be skeptical of mounting your PlayStation 5 to the wall given how much you likely paid for it and how ready you are to just be done with the install. But there's a reason we recommend using a PS5 wall mount in our Ultimate PS5 Guide.
Even though wall-mounting your console comes with a handful of benefits such as creating a cleaner setup, helping keep your electronics well organized, and keeping the console quiet, you should also give it some thought before you proceed.
This is because the wall-mounting process requires some expertise. However, as earlier stated, the PS5 is definitely mountable — you just have to be sure that you're doing it the right way, and this is one of the best ways to keep your PS5 dust-free and performing well.
Wall mounting gets it up off the floor, it's better than putting it in a cabinet or behind a TV, and it's far less masochistic than placing it directly on the carpet. The PS5 comes with a mount so that you can set it on its' side, or even flat without the base, but we don't think you should if you have better options. And we really recommend you get it up off the floor or carpet.
Your best bet would be to go for a heavy-duty mounting bracket like the TotalMount Universal Mount for Electronics (on Amazon, more on this model later) and follow the recommended steps so that your PS5 stays safe.
Benefits of Mounting Your PS5 to the Wall
Mounting TVs onto the wall has now become very commonplace, but the same cannot be said about gaming consoles. Nonetheless, mounting your console is highly recommended because it provides a high level of protection.
The mount penetrates right into your wall and acts as a shelf for your PS5, so it's secure and also does not consume too much space.
Let's take a look at some of the benefits of mounting your console.
Better Ventilation
The added ventilation that you'll get from wall-mounting your PlayStation 5 is one other top reason for choosing to do it. If you place the console on the ground or on top of your TV, it may be deprived of its much-needed air ventilation.
This is the best way to totally sidestep the issue of your PS5 overheating, which can start to happen over time if your PS5 is enclosed in a hot space, encounters a lot of dust on the floor, or both.
More Entertainment Space
The PlayStation 5 console is quite a bit larger than the previous ones. Therefore, you should consider how best you can mount it and still save some space, especially if you have a couple of other electronic appliances, a stereo system, or anything else.
Mounting your console will also help get your cords and controllers organized.
Keep It Out of Reach of Kids and Pets
This is very important. Having kids or pets automatically gives you a compelling reason to take safety precautions.
You absolutely would not want to be greeted with the news of your kid knocking the heavy console onto themselves or something like that. When you wall-mount the console, it means it's safe from falling over onto people or pets.
Cable Management
You've probably got a handful of electronic cables running around your home, especially if your entertainment center is all bulked up. Take a second to think about dealing with tangled cords. Yeah, it's quite frustrating.
Mounting your console to the wall also allows you to manage those cables and keep them organized because it's easier to know the direction of every cord when you do so.
Convenience
Of course, this has to be on the list of benefits as well. When you mount your PS5, you get convenience in return.
By mounting your PS5, you get to save some space, and it becomes easier to plug your PS5 into a TV that is mounted on the wall. Also, it gives a clean and compact appearance.
How to Mount a PS5 to the Wall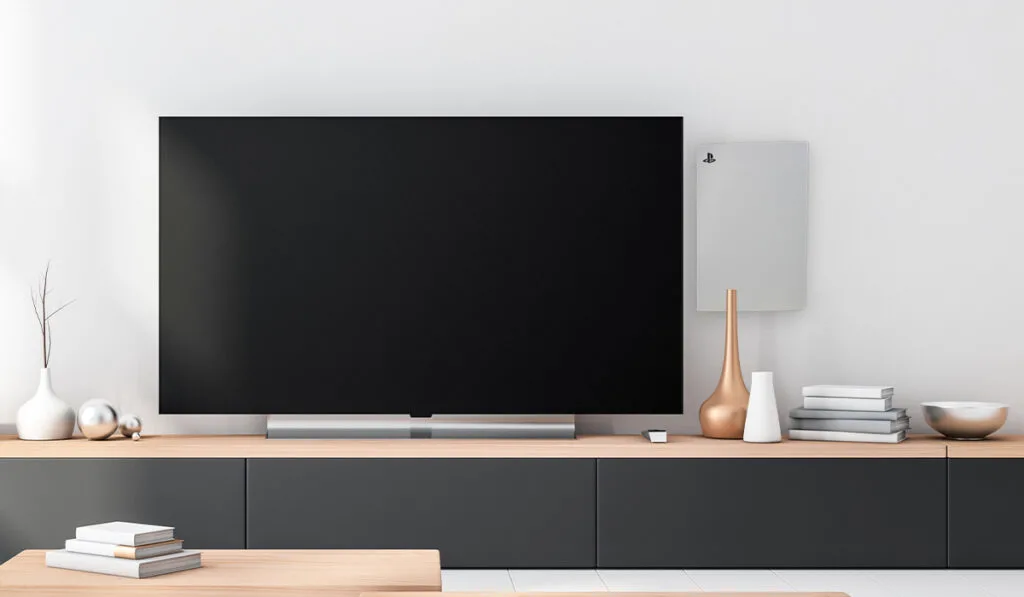 Your gaming space should ideally look clean and well-organized. One of the best ways to have your gaming space organized is by mounting your console onto the wall. Not only does this help you save space, but it also means that your PS5 will automatically give itself a stylish introduction to any guests you have over.
Although the not-so-easy part is having to figure out the right spot to mount your console, you'll feel great once it's over. Firstly, you need wall anchors if you want to have your console mounted because they greatly reduce the chances of it falling off.
So to complete the entire mounting process, you'll also need thick screws, thicker than the regular ones, and the wall anchor.
A drill, the equipment that came alongside your mount, and a screwdriver are also needed to complete the whole mounting process, and it only takes a couple of minutes to complete. Here's the breakdown of the process:
Ideally, your PS5 wall mount would be installed into a stud. But an alternative for that is a wall anchor. The wall anchor ensures that the mounting is securely done in drywall.

Create holes in your wall using the drill, making sure that they're just the same size as the holes you have in the console mount.

After creating the holes, twist your wall anchors into them.

You can now insert the screws after matching the mount up with the wall anchors.

Now, slide in your PlayStation 5 console and secure the push-in plug.
And remember, these are just the general, most common steps to install a PS5 mount. You might need to do slightly different things based on your mount, but it's not rocket science – they all mostly work the same way.
What Are the Best PS5 Wall Mounts?
PS5 wall mounts usually come in metal form and are similar to the mounts used to mount monitors and TVs to walls.
The PS5 mounts need to be screwed to the wall, and then you can attach your console onto the brackets on the mount either by using grommets or screws.
Console mounts are not a new thing. They've been around for years. However, just like the consoles undergo generational changing, so too do the mounts. Mounts used to be much more challenging to install, but now it's really a breeze.
Here are some of the best PlayStation 5 mounts available on the market:
1. Total Mount Universal Mount
The Total Mount Universal Mount (on Amazon) is called universal for a reason. Its best function is that it is compatible with any console on the market at the moment. It comes with heavy-duty straps and a reliable ABS plastic frame.
You can secure your console by adjusting the straps so your device can fit in properly, whether it's a PlayStation 4, a PlayStation 5, an Xbox, or any other console. Consoles are not the only thing you can use the total mount universal mount for. You can also use it for your cable box or DVD player, as long as you want it mounted on the wall of course.
The straps of this mount are easily adjustable by moving the buckles. One of its best features is that it comes with a built-in level. This level helps to ensure that you're mounting straight on the wall.
On the front of the Universal Mount frame, there are large, non-slip rubber panels present. These panels help to keep your PS5 from slipping and falling off. You can also choose from two colors — professional black and standard white.
Any console up to 40″ in diameter can fit into the adjustable straps. However, the mount is only compatible with objects that can maintain a vertical position so to use it, you'd have to be ready to have your console in an upright position.
This also means that if you're going to use it for a DVD or Blu-ray player, ensure they can load discs vertically.
2. HIDEit PS5 Wall Mount Pro Bundle
The HIDEit PS5 Wall Mount Pro Bundle (on Amazon) is the next one on the list. This one specifically comes with a PlayStation 5 controller mount alongside the console mount. So you're getting a mount not only for your console but for your controller as well.
Durable steel material is what the mount is made of. It is quite versatile in design as it is built to allow room for ventilation and cable organization while firmly holding your console and keeping it secured.
This wall mount has a metal spine that comes with four support holes, each requiring a typical 1″ screw. All you need is a drill because the screws are there already. You just need to fix it to the wall.
It is also securely firm at all times because the bottom metal rung screws directly into a mount on the bottom of your console. You can count on the durability of this mount because it is made from cold-rolled steel.
With the HIDEit mount, you also have a single controller mount. This controller mount is made with durable and reliable steel and also goes into the wall with the same standard 1″ screws. You can always purchase extra controller mounts separately from the same company as it comes with just one controller mount for starters.
It should be noted that this mount can only be used for the PS5 console because that's specifically what it is designed for.
3. Topaty Wall Mount Hanger
This is the next and last option on this list. The Topaty Wall Mount Hanger (on Amazon) is both very durable and reliable because it is made from hard iron. It is also specifically designed to mount the PlayStation 5 console so no other console will fit into it.
With this mount, you get a very durable shelf for your PS5, and it goes horizontally on the wall. This one is built a bit more open than the other wall mounts. Its wide base bottom makes it possible for the top area to remain unobstructed.
In other words, it provides open ventilation for your PS5 and all of the ports will be available.
This wall mount hanger also contains the screws you need to mount it, and you just need a drill or a screwdriver to put them in. It also allows for extra ventilation because the bottom of the frame comes with a long opening. You would have to buy a controller mount separately though, as it does not come with any.
Your console is not mounted to the bracket of this mount directly, so you can remove the PS5 by simply lifting it out. The best feature of the Topaty Wall Mount Hanger is its durability, since it is made from durable iron.
However, one unfortunate thing about this option is that it is quite heavy because of what it's made from. There are four screw holes that help hold it firmly onto the wall and there is also an extra-wide base that you can place your PS5 on.
Overall, the Topaty Wall Mount is a nice option because of its durability, quality, and functionality. But you should also keep in mind that it is quite a heavy option to go for.